Those Magnificent Men With Their Detecting Machines
JOHN WARDLE

DENNIS BROWN

The Gruesome Twosome at Syerston, 17/10/02
Dennis has finally bought a new detector and retired his ancient Fisher. We all thought that Dennis was waiting for the new Fisher model to be released. the one with atomic batteries and twenty-four satellite precision pinpointing. However it is a Whites, like many others in our club. All our members wish him good (but not too good) hunting!
A Small Display For A School
This small cigar box display has been made up at the request of one of our farmer friends. He is a school governor and would like the display to be presented to the school, on behalf of our club, to show finds made in the area.
CLUB DONATES ITS TREASURE TO SCHOOL, ROMAN GIFTS FOR CHILDREN
By KEVIN PEACHEY. Courtesy of the Nottingham Evening Post.
Roman and Tudor treasures have been donated to a primary school after being discovered in surrounding fields. The collection of coins, armaments and bells were presented to a tiny Primary School, near Newark, by a metal detecting club.
The Head teacher said: "The children were spellbound by the artefacts. It brings history alive for them." An Eight-year-old boy said: "It showed that people could make good things back then, not just us with all our computers and things.". "It is really good because it shows all of the artefacts from the Tudor times that we are doing in history. It is better than history books."
Their own mini-museum came about after the Ashfield club asked a local farmer for permission to scan his land. The enthusiasts uncovered various sized musket balls under the soil to the surprise of the farmer, a parent governor at the school. His daughters, five and eight, were so fascinated by the finds that he asked the club to show the items to the rest of the school's 30 pupils. In fact, club secretary, John Gough prepared a presentation box and a framed pre-decimal coin display featuring treasures discovered by the club in the area.
Mr Gough said: "The items are not worth very much but it is a bit of the history and about who used to live on the land. Many of the children had not seen pre-decimal coins."
The treasures include a Roman coin, brooch, sword belt hanger, a George III halfpenny, a Queen Victoria coin and various musket balls. Also in the collection is a spindle whorl, the weight that holds the rod for spinning wool, a livery button from an old uniform and a crotal, or jingle bell which herders tied to their livestock to keep track of them.
The Farmer said: "It gives them a real hands-on experience of history."
The Head teacher said it was difficult for children to grasp the chronology of history but this display, which would be kept at the school, would help them to appreciate the lives of the people they were learning about. "The display will be used when the topic is relevant," he said. "It is possible to borrow artefacts for these lessons but it is quite unique to have some of our own."
The children were also given a talk about metal detecting by John Gough and fellow detectorist, Jeff Oscroft when the presentation was made. The Headmaster added the new display was an example of the good links between a small school and the community.
Jeff's
Winter Advice
When asked if he had any contribution to make to this issue of the club newsletter Jeff 'TT' Oscroft, our search secretary, offered the following advice about care and maintenance of our vehicles now that winter is upon us.
Check to make sure that tyres conform to the legal tyre tread depths and recommended pressure. In addition that they are good enough to cope with situations that we, as detectorists, are likely to find on farms and deeply rutted farm tracks.
Check lights especially bad weather and fog lights. Carry spare bulbs and fuses.
Check the antifreeze, when was it last changed?
Check the battery condition and replace if suspect.
Check the screen washer liquid level, consider refilling with a quality de-icing and screen washing mixture. Check that ice removing tools, scraper and liquid de-icing spray are in the vehicle.
Keep handy a lighter or propriety car door lock de-icer.
A blanket and a first aid kit in a plastic bag kept in the boot may come in useful.
A torch kept in the glove compartment may prove invaluable.
Being detectorists most of us will have a spade in the boot but why not also a small bag of sand for that slippery start.
Find Of The Month October 2002
The coin Find of the Month for October was won by Jeff Oscroft with his splendid Nuremberg jetton. A detailed account of this is below. The artefact find of the month was won by Ron Tansley with his erotic pipe tamper. (A detailed account of this is NOT on any page of this web site).

The October Find of the Month competition attracted more entries than has been seen for many a month. Some of the more interesting ones are illustrated (not to scale) below including the three hammered silver coins with holes punched in them.

Jeff's Jetton
Ron's Pipe Tamper
HENRY VII 1485-1509

Sovereign type silver penny

As found by Tony Knowles

As it should be !

COMMONWEALTH

1649-1660

Irish silver half groat

Three sets of coins illustrated here have holes punched in them. The first one could be used as a pendant, although the position of the holes in the other two would not allow for this. It is thought that they may have been used as 'down market 'Touchpieces'. (See below).

Found by John Gough

ELIZABETH I 1597

Hammered silver sixpence

Found by John Gough
SILVER THIMBLE

KEY

Thought to be 16th. century

Found by Eric Purseglove

Found by Norman Daynes

CHASTITY BELT LOCK

VICTORIAN GROAT

(or 'Joey')

Found by Dennis Brown

The finder of this padlock (who wishes to remain anonymous) has identified this artefact as a chastity belt padlock.

He explains the absence of the iron ring as being caused by it rusting in ancient times.

To find a Victorian Groat is not an unusual occurrence for most metal detectorists, but how many know why this coin was minted ? In 1836 Joseph Hume MP asked Parliament to allow the issue of a four penny piece to be used to pay short cab fares instead of the more usual sixpence. This did not please the cabmen who named the coin a 'Joey' in derision. Dates to look out for are 1846/7/8 and 1851/2/3. The Groat remained as legal tender, although not used, until 1972. Later on the term 'Joey' was used for the silver threepenny bit.
JIM WRIGHT
It is with sorrow that I have to report that Jim died at the John Eastwood Hospice on Thursday, 12th. of December, 2003 aged 77. He leaves a widow Deirdre, son Neville, daughter Carol and two grand children.
Jim was a founder member of the Ashfield Metal Detecting Club in 1994. He was instrumental in setting up the club library and was the librarian for a number of years. In 1997 he became the club chairman until stepping down in 1999.
Before his health deteriorated he was a keen and active member of the club and regularly attended searches and meetings. His contributions to the meetings were always thoughtful, knowledgeable and to the point.
It is a measure of his kindness that, when he left the club recently due to poor health, he requested that his club badge be given back to the club to be placed in a monthly club raffle.
Kind, honest and sincere, a perfect gentleman, Jim will be missed.
The funeral was held on Wednesday the 18th. of December at Mansfield Crematorium. The Ashfield Metal Detecting Club was well represented by both members and their wives
Advertising Or Trader's Buttons

For a number of years the club secretary, John Gough, has collected the small advertising or trader's buttons, like the two illustrated here. Most of us regard these little brass buttons as an annoyance and more than likely they are consigned to the hedge bottom or junk box in disgust.

Realising that the buttons are being degraded by the minerals and fertilizers in the soil he started to save them. Only now with the advent of the digital camera, he is recording them individually and placing the images on a recordable compact disc. Would club members please save these buttons in any condition for the secretary and with, if known, a note of the general area where found.
JETON

FOUND BY JEFF OSCROFT AT SEDGEBROOK, LINCOLNSHIRE.

THE WINGED LION OF ST. MARK

This is a jeton made by one of the three Hans Schultes of Nuremberg who minted jetons in the 16th./17th. centuries.

Most metal detectorists have at some time found small, thin coin sized metal discs. Their inscriptions are usually faint and almost unreadable. These are not coins in the numismatic sense of the word but jetons or counting tokens for use with a chequered board or cloth.

The one illustrated above, found by Jeff Oscroft, is substantially bigger and thicker than usual detector find and it is in a remarkable state of preservation. It is a find any detectorist would be proud of.

The first Hans Schultes was the son of the founder of the jeton making mint Iorg (or Georg) Schultes originally Schultheiss and the others were his grandson and great grandson respectively the dates each were mint masters is as follows:-

Georg Schultes 1515 to 1553. Hans Schultes 1 1553 to 1584. Hans Schultes 2 1586 to 1603. Hans Schultes 3 1608 to 1612.

The earliest reckoning counters or jetons are generally thought to have been copied from the Edwardian pennies of England, they invariably have a hole or indentation punched in the centre. (See picture 1). During the middle ages production changed to France and the Low Countries. Then the Nuremberg jetton masters began by copying the counters of their European neighbours, gradually by the early 16th century they had a monopoly to manufacture them, which lasted for over three centuries.

THE MORE COMMON NAMES OF THE JETON MASTERS.

IORG (GEORG) SCHULTES master 1515, died 1559 - HANS SCHULTES I master 1553, died 1584 - HANS SCHULTES II master 1586, died 1603 - HANS SCHULTES III master circa 1608, died 1612 - DAMIANUS KRAUWINCKEL master 1543, died 1581- HANS KRAUWINCKEL master 1562, died 1586 - EGIDIUS KRAUWINCKEL first recorded 1570, died 1613 - HANNS KRAUWINCKEL II master 1586, died 1635 - WOLF (or WULF) LAUFFER master 1554, died 1601- GEORG LAUFFER master 1610, died 1647 - HANS LAUFFER master 1611, died 1632 - MATHAUS LAUFFER master 1612, died 1634 - WOLFF LAUFFER II master 1612, died 1651.
Early English Jeton (1)

Hans Krauwinkle Jeton

Iorg Schultes

Ship/French Shield
SELLING COINS
As a rule most of the coins that are found by detectorists are not of saleable condition, however occasionally a find is made that appears to be in 'Very Fine' or even 'Extremely Fine' condition. Please remember that when self grading coins the finder is usually optimistic and should be prepared for the grade to be reassessed by an expert usually placing it in a lower grade.
It is advisable to seek valuations from more that one dealer. Names of dealers and auction houses can be obtained from the two hobby magazines, The Searcher and Treasure Hunting. Another source of names is from the internet. Some dealers and auction houses appreciate scans or photographs of a coin before deciding to accept it for a physical evaluation.
One dealer in Celtic coins offers to supply registered envelopes with separate insurance for the coin to be sent and, if need be, return.
TOUCHPIECES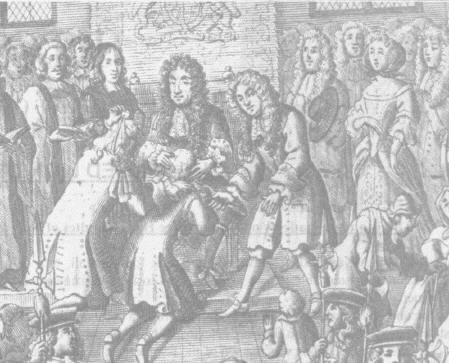 Since the Roman times the ceremony of 'touching' has taken place. As shown in the illustration the king, in this case Charles II, is about to touch a coin and give it to the kneeling man on the left. This was thought to cure sick persons. The coin was holed and worn by the sufferer around the neck on ribbon or a chain.
Edward the Confessor was the first recorded English king to perform the 'touching' ceremony, this was in AD 1058. This coin is believed to have been the normal silver penny of his reign. Later gold coins were used for this purpose. In 1465 a gold coin called an Angel, value 6s. 8d. was minted by Edward IV and, because of its appropriate design, it was the only coin used until the reign of Charles I ended.
The Angel was a good choice because the obverse showed St. Michael spearing and defeating the Devil. On the reverse it had the sentence, in latin, 'By thy cross save us, O Christ.'
There is no record of 'touchpieces' being used in the Commonwealth period. In those Puritan times the use of such an object would have been thought blasphemous.
On the Restoration of the Monarchy Charles II had a special medal struck as a 'touchpiece' and later Queen Ann was the last British monarch to perform the ceremony.
Written by John Gough, Club Secretary