Men of Mettle
Five of the club members recently enjoyed a day out detecting. From the left, they are Andrew Wright, Jon Welch, Dai Hayes, Ron Tansley and Norman Daynes.
Two coins of interest were found on the search, an Anglo Saxon Sceat c 680-710ad, Series A by Dai and an unusual hammered silver penny by Martin Wright (taking the picture !).
It would appear that young Andrew has an advantage over the older members in that he detects with TWO detectors at once !
Welcome to ...
Martin Wright who has been a detectorist for about 25 years and his son Andrew who is our first Junior Associate member. We all hope that their association with the Club will be a long and happy one.
Find Of The Year 1999/00
Roman Fibula Brooch
Found By
Stephen Smith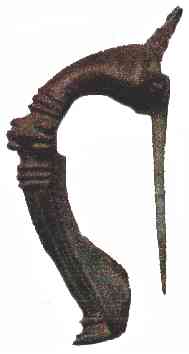 Find Of The Month April
George III Sixpence 1816

Found By

Stephen Smith
Lead Seal

Found By

Jeff Oscroft
The face on the lead seal (?) is that of a mature man with a beard. The two slits at each side of the head are, presumably, for a ribbon or cord to pass through. It could be some form of pilgrim badge ? The two slits being used for fastening it to a hat or jacket.
Find Of The Month May
Elizabeth I Hammered Sixpence

Found By

Andrew Wright
Written by John Gough, Club Secretary