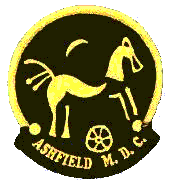 NORMAN DAYNES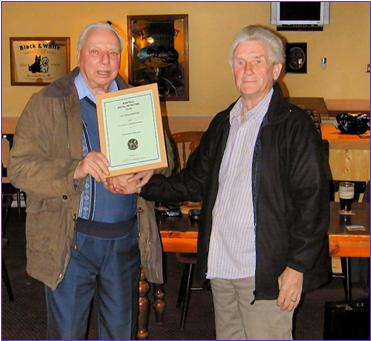 Norman Daynes is shown here, on the left, accepting his Life Membership certificate of the Ashfield Metal Detecting Club from Dennis Brown, the club chairman. Norman was one of the founding members of the club when it was formed in 1994 and now into his eighties is still an active club member, hardly missing a club night or, until recently, a club search throughout all this time. He is a skilled and dedicated detectorist, this is confirmed by his enviable club record of twenty 'Find of the Month' and two 'Find of the Year' awards to date.

BEST FIND

Norman's best find on a club search is pictured here. It is a superb solid silver double ended seal of the Warburton family. A full account of this find and the Treasure Act proceedings is on the club website, www.ashfield-mdclub.g7jjf.com.
FIND OF THE MONTH FEBRUARY

COIN:- David Rhodes. Edward Hammered silver penny.

No image available.

ARTEFACT:- Alan Roberts. Medieval key.

No image available.

FIND OF THE MONTH MARCH

COIN:- John Radford. James1 shilling

ARTEFACT:- John Radford. Bronze Age dagger.

John Radford James 1 Shilling

John Radford bronze age dagger
FIND OF THE MONTH APRIL
COIN:- Jonathan Bryant. Roman denarius of Marcus Aurelius.
No image available.
ARTEFACT:- Dave Hallam. Bronze Age Palstave axe


David Hallam Bronze Age palstave axe.
FIND OF THE MONTH MAY
COIN:- John Radford. Roman denarius of Hadrian.
ARTEFACT:- Dave Rhodes. Saxon brooch.
No image available.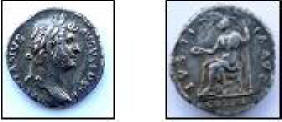 John Radford Roman denarius of Hadrian.
FIND OF THE YEAR 2009—2010

COIN:- David Rhodes. Henry V111 groat.

ARTEFACT:- John Radford. Bronze Age dagger. See Find of the Month for March image.

Dave Rhodes Henry V111 groat.

***

SPEAR

This superb example of a spear was found on the same farm as David Hallam's Palstave Axe. It was found by one of the farm workers, "eyes only" without a metal detector!

***

90 BC. ROMAN REPUBLIC DENARIUS.

This coin was found by John Gough on a recent club search. It is a silver denarius minted by the Calpurnia family in 90 BC.

Obverse:- Laureate head of Apollo facing right, with symbol behind the head and near chin. Reverse:- Horseman with torch galloping right. Below:- L. PISO FRVGI. in one line and RA a monogram for Roma underneath JMBG.

As found. As it should be.
COMMITTEE FOR 2010 - 2011

CHAIRMAN SECRETARY TREASURER

Dennis Brown John Gough Mary Severn

SEARCH SECRETARIES

Jeff Oscroft Paul Wigginton David Hallam

COMMITTEE

Dave Rhodes
Pat Walker Nigel Warren

Graham and June Reedman are two new committee members. June is the search marshal with responsibilities for the conduct of searches.They both declined to have their photographs included in the newsletter and requested that a caricature be used to represent each of them. After weeks of browsing the web and various books, including the Kama Sutra, it was unanimously decided that the above image was the most accurate likeness of the pair.

***

RICHARD'S 'WAITE' IS OVER!
| | |
| --- | --- |
| | |
| Richard Waite with his first hammered coin, an Edward silver penny. | John Radford, Richard and Jeff Oscroft examining Richard's find. |
| This superb 1889 Victoria Crown was also found by Richard on a recent club search. | |
***
EDWARD 111 HAMMERED SILVER PENNY.

Anthony James found this beautiful example of a hammered silver penny on a recent club search. The coin was identified on the UK Detector Finds Database as an Edward 111 penny minted in London, fourth coinage, treaty period 1363—1369.

The obverse reads:- EDWARD ANGL R DNS HYB. Crowned bust facing.

The reverse reads:- CIVITAS LONDON.

Long cross with three pellets in each quarter.

***
EVERY PICTURE TELLS A STORY!

Tony Elliott and John Gough caught in an unguarded moment by the club's phantom photographer. The detectorists were taking advantage of the seat provided by some thoughtful person. Both agree that it should be compulsory for every field over five acres to have one. Tony strongly denies that he was asleep, he maintains he was only resting his eyes!

***

ARTEFACT OF THE YEAR AWARD

Dennis Brown, club chairman, (left) presenting John Radford with the Artefact of the Year shield for his Bronze Age dagger.

COIN OF THE YEAR AWARD

Dave Rhodes being presented by Dennis Brown with the Coin of the Year shield for his Henry V111 groat.
***
HAPPY RETIREMENT PAT.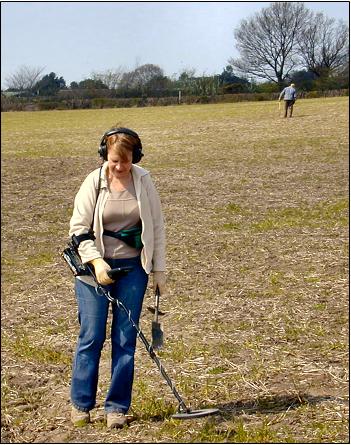 Pat Walker has been a member of the Ashfield Metal Detecting Club since its founding in 1994. Unfortunately her duties as a midwife restricted the number of club searches she could attend. Recently retired from work she hopes to spend more time on club searches and metal detecting in general. Pat is seen here on a recent club search although finds were scarce the lovely weather made up for it.
***
COULD BE FUN, AND IT'S FREE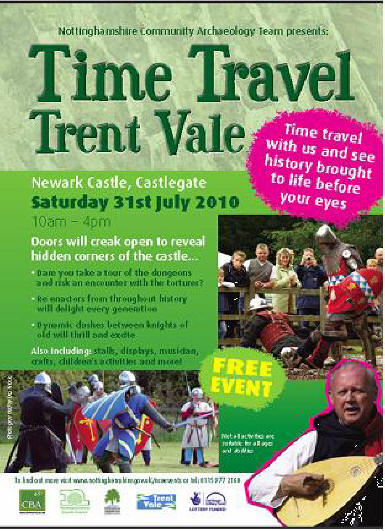 ROMAN "SWISS" ARMY PENKNIFE

A genuine Roman multipurpose tool complete with knife, fork, spoon, scribe and earwax spoon .

***
Dave Rhodes presenting Dennis Brown with the shield for Detectorist of the Year.

***

ANY IDEAS?

A lady, (not a detector user) has asked the club to publish in the newsletter and include on the club website details of a statuette in her possession. The object is 53 centimetres high, very heavy possibly made of lead using the lost wax process. It has a green patina with traces of gilt. Found in Oxfordshire.

She is wearing greaves so perhaps is a Goddess of war, Athena perhaps? Any information please contact John Gough at john.gough1@ntlworld.com.

***

BUSTS ON ROMAN COINS THAT MAY BE FOUND IN BRITAIN (4)
SEPTIMIUS SEVERUS 193 - 211 Lucius Septimius Severus was born in 146 AD. in North Africa. He was an outstanding soldier and became commander of the armies in Upper Pannonia. After the murder of Pertinax he was proclaimed emperor by the troops on the Danube. He defeated Didius, Percennius Niger and Cloduis Albinus becoming undisputed ruler of the whole empire. In 208AD he visited Britain and died at York in 211AD.

CARACALLA 198 - 217 M Aurelius Antoninus was born in Gaul in 188AD. The eldest son of Septimius Severus. The nickname Caracalla came from his use of a long tunic of that name. On the death of Septimius Severus he reigned as emperor with his younger brother, Geta. The pair did not get on and Caracalla murdered Geta to became sole ruler. His was a cruel and extravagant reign ending when he was assassinated in 217AD.

GETA 209 - 212. Lucius Septimius Julius Geta was the younger son of Septimius Severus and Julia Domna, he was born in Rome in 189AD. After only ten months as joint emperor with his older brother Caracalla he was murdered by him. He was only 23 years of age then. Caracalla ordered all statues of Geta to be destroyed, all inscriptions naming him to be erased and all coins with the portrait of Geta or his name on them to be melted down.

MACRINUS 217 - 218. Marcus Opelius Severus Macrinus was born in 164 AD at Caesarea in Mauretania. He trained as a lawyer but eventually became Prefect of the Pretorian Guards. Whilst he was campaigning in Mesopotamia he had the Emperor Caracalla killed and was made Augustus by the troops. After a disastrous war with the Parthians the army revolted. Macrinus fled with his son, Diadumenian, they were caught and executed.

Elagabalus 218 - 222. Varius Avitus Bassianus was born in 205 AD in Syria. He was called Elagabalus having obtained the position of High Priest to the deity of the same name who was much worshipped in Syria. After Macrinus was killed Elagabalus was declared emperor by the troops and Senate. His short reign was marked by his utter depravity and sexual activities. Eventually the Praetorian Guard mutinied and killed him and his mother, throwing their bodies into the River Tiber. After his death the senate expunged his name from the records.

Severus Alexander 222 - 235. Bassanianus Alexianus was born in Phoenicia in 208 AD, he was adopted by Elagabalus in 221 AD and titled Caesar, he then took the names Marcus Aurelius Alexander. On the death of Elagabalus he was proclaimed emperor using the name Severus Alexander. He ruled wisely and well. In 235AD he was killed by Maximinus one of his guards

***
BOOKSHELF

In this newsletter I would like to introduce you to "Twenty Miles round Mansfield" the 1835 Sanderson Map. I bought my copy a few years ago at the local library for £8.99, well worth the cost. A copy of the original is priced at £2200 from the Shapero Gallery. I was privileged to see a copy of this map, seven foot wide, laid out in its circular form covering a living room floor. It shows every field boundary within a forty mile diameter ranging from Sheffield, north, Derby and Nottingham, south, and from Newark in the east to Bakewell in the west. It covers three quarters of Nottinghamshire, half of Derbyshire and small areas of Yorkshire. A friend of mine and fellow detectorist, Jack Archer sadly no longer with us, had the map professionally photographed and gave me a copy in A2 size sheets. If any club member wishes to research an area covered by the map I will, by prior arrangement bring it to a club meeting for viewing JMBG.
GREAT SEAL OF THE KING OF ENGLAND
EDWARD 111, 1327—1377.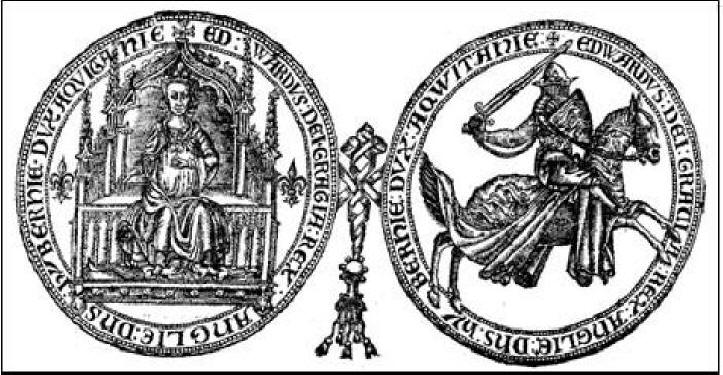 ARTICLES WANTED FOR NEWSLETTER

The figure on the left is one of the older club members thinking hard about an article for a future issue of the club newsletter. He is not named for legal reasons.

Seriously, articles, suggestions, photographs and ideas are urgently wanted for the newsletter. Apart from two or three members who contribute regularly, other club members do not seem to be interested. The more contributions that come in, the more frequently the newsletter can be issued.

If this photograph inspires anyone to do anything for the newsletter please contact John Gough at a club meeting, on a club search or by email to john.gough1@ntlworld.com.

Thank you.