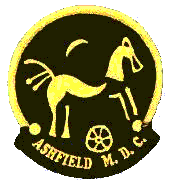 Presentation Display Case For A Local Farmer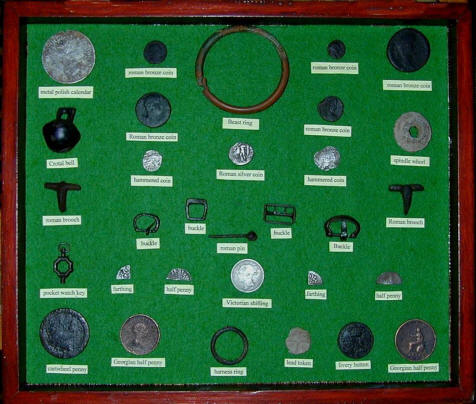 A case containing metal detecting finds, made by Ashfield Club members, was presented to a Nottinghamshire farmer as a token of appreciation for the support he has given to the club over the years, by allowing the club to search his land.

The display case was made by Dennis Brown and contained coins and artefacts from Roman to relatively recent times, from Roman silver and bronze coins to Georgian coppers and Roman brooches to an early 1900s alloy calendar token advertising metal polish.

How Dennis makes his display cases was described in the late Winter 2005/6, vol.2 no.2 issue of the club newsletter.
Find Of The Month January 2006

Coin
Artefact

Joint Award

Elizabeth I penny

Found by John Wardle

John short cross penny

Found by John Radford

No pictures available

Sword hanger found by Barry Goldsmith
Find Of The Month February 2006

Coin

Elizabeth I Half Groat

1482 - 1484

Found By

John Radford

Artefact

MARTINGALE BADGE

A large badge attached to the breastplate of a horse.

Found by John Radford

This artefact is still being researched.

It is believed to date from either the William IV or Queen Victoria era.
Find Of The Month March 2006

Coin

Henry VI Calais Groat

1427 - 1430

Found By

Bill French

Artefact
Seal with squirrel
Wax Impression
Found by John Wardle
Pigeon Rings
Most detectorists have found a pigeon ring (sometimes with the leg still attached) and have wondered how to get in touch with the owner to inform them where the unfortunate bird met its end. The following is a list of the main racing associations or unions within the United Kingdom where found rings or stray birds can be reported, the organisation being identified by the prefix of the ring number:-
GB - The Royal Pigeon Racing Association, The Reddings, Nr Cheltenham, Glos. GL51 6RN. Telephone 01452 713529 Email : strays@rpra.org
NEHU - North of England Homing Union, 58, Ennerdale Road, Walker Dene, Newcastle Upon Tyne, NE6 4DG. Telephone 0191 262 5440. Email : NEHU Stray Birds
NWHU - North West Homing Union, Mr T Dawber, 270 Mossy Lea Road, Wrightington, Wigan WN6 9RN Tel: 01257 421271. Mon 4pm - 8 pm, Tues 5pm - 7pm, Wed 10am - 1pm, Thur 10am - 1pm, Fri 1pm - 3pm.
SU - Scottish Homing Union, 231A, Low Waters Road, Hamilton, Lanarkshire, ML3 7QN. Telephone 01698 286983
WHPU - Welsh Homing Pigeon Union, Old Timothy's Yard, Llanfoist Street, Ton Pentre, Rhondda, CF41 7EE. Tel 01443 441010. Email: gail@whpu.org.uk
We Three In Wonderland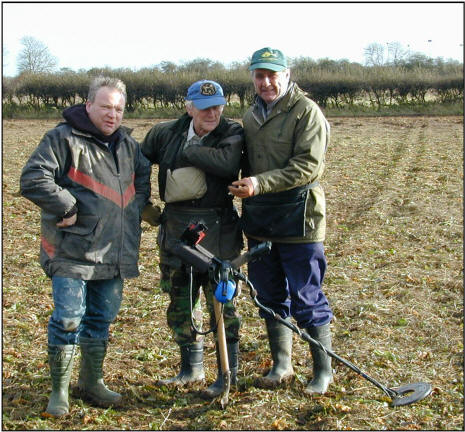 Richard Northey, Dennis Brown and Bill French (left to right) on a recent club search near a Newark, Civil War site.

Seventeen members, out of the possible membership of twenty five, turned out for the search on a bright but bitterly cold day.

It appears that they have only one detector amongst the three of them. Dennis is searching in his inside pocket for a coin to spin. This will decide the user, the digger and who will be there in an supervisory capacity. I wonder who will win the toss and get to use the detector.
Meet The Members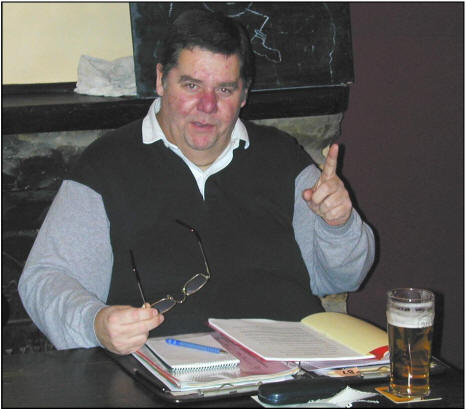 This is a picture of Mark, our club secretary, conducting proceedings at a recent club meeting. He is seen here in a rather dictatorial pose as though he is laying down the law on some proposal or other. This is far from the truth, Mark is a genuine easy going person, always ready to help a fellow club member, and has proved himself to be a first class club secretary.

He was one of the first members of the club when it was founded in 1994. At the recent Annual General Meeting in March, he was re-elected for another year as the club secretary.
The Latest News About Norman's Silver Seal

A full article and photographs describing the finding of the seal and subsequent dealings with regard to the Treasure Act procedure will be published in the June, 2006, issue of the Searcher magazine.
Barrel Locks And Keys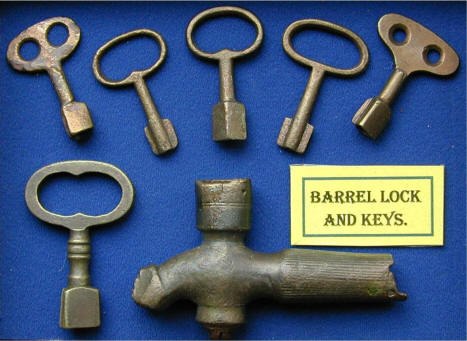 Most metal detectorists have found a barrel tap lock key and occasionally a barrel lock itself. This is a brief description and explanation of their use,

The barrel tap lock was designed with a collar that allowed access to the contents of a barrel by the holder of the key for that particular lock. Security was achieved by cutting a hole in the top of the collar that matched exactly the shape of the end of the key. The key then could be used as a handle to turn the tap on and off. Unfortunately the top of the cover is missing from the barrel lock illustrated above.

Tap locks and keys are not uncommon finds made by metal detectorists. This may indicate that they were in use in the fields, perhaps during harvests or social activities like, fairs, markets or even for farm workers refreshment breaks.

AMDC AGM 2006
The Annual General Meeting of the Ashfield Metal Detecting Club was held in March.

The members returned the following Committee to serve for the year ending March, 2007 :-
| | |
| --- | --- |
| Chairman | Ron Tansley |
| Secretary | Mark Attenborough |
| Treasurer | John Radford |
| Site Secretary | Jeff Oscroft |
| Subscriptions | David Rhodes |
| Lottery | Pat Walker |
| Librarian | John Gough |
| Find of the Month Raffle Organiser | Dennis Brown |
| Committee Men | John Wardle, Roger Bacon, Richard Northey |
Increase In Membership Numbers
It was passed by members present at the meeting that club membership should be increased from twenty five to thirty.
Trapesoidal Spur Buckle 1620-1680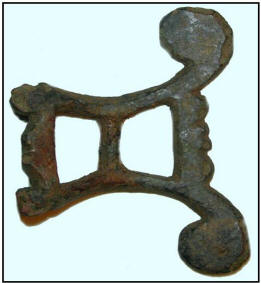 This nice find was made by Jeff Oscroft on a site near to a Civil War encampment occupied during the siege of Newark, Nottinghamshire, in 1645.

This date would fit in nicely with the date given for this type of buckle in the book 'Buckles' by Ross Whitehead, page 84 Number 527.
Mystery Object
Written by John Gough, Club Librarian