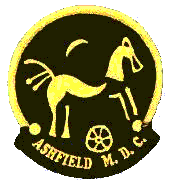 Thars Gold In Them Thar Hills !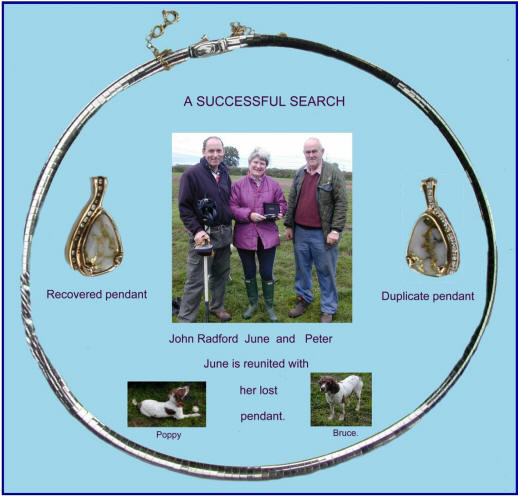 On a Thursday club search at the end of October, John Radford proved the validity of the saying 'THARS GOLD IN THEM THAR HILLS' with a vengeance when he found a beautiful gold and diamond pendant whilst detecting on hillside pasture on a Nottinghamshire farm.
Peter, the farmer, had requested that the club search the pasture land before going on to the arable land made available for the club later that day. He had told the search secretary, Jeff Oscroft, that his wife, June, had lost a very valuable pendant made of Alaskan gold set in quartz with a diamond surround. The pendant had been lost while June was out with the two farm dogs and the grass had been too long to make a proper search. Since then cows had grazed the field and unless the pendant had entered one of their digestive systems hopes were high for finding it.
Ten club members started the search on that overcast and rainy morning on the field of about ten acres, nothing of any consequence was found during the first three-quarters of an hour then, during a break in the detecting due to rain, John Radford came up to where several searchers had taken shelter, beside a large hedge, and asked if this was it. He held out the pendant pictured above, it was being admiring when the farmer, Peter, arrived with a black jewel box containing another pendant the twin of the one that had just been found. He explained that the original had been bought on a trip to Alaska and meant so much to June that a duplicate one had been made. John, June and Peter are shown above moments after June had been reunited with the pendant.
A GOOD RESULT FOR ALL CONCERNED, THE ASHFIELD CLUB AND THE HOBBY IN GENERAL.
News from John Radford,
your correspondent in Chapel St Leonards.
Three members of the AMDC attended a metal detecting rally organised by Warsop Metal Detecting Society over the weekend of 16th and 17th September 2006 at Chapel St Leonards, Lincolnshire.
Dennis Brown, Dave Rhodes and John Radford all tried their luck in an attempt to win prizes awarded to the finders of tokens made of various metals. The prizes were contributed by some well-known detector suppliers, Whites, Minelab, Crawfords, Viking, Joan Allen, XP and C Scope.
Day One
The first day held mixed luck for the hopeful trio. Both Dennis and Dave found a prize token, whilst John found a hammered silver penny of Edward III within three minutes of the start of the rally, probably the quickest hammered coin find of the weekend. Their luck continued in the finding of a number of aluminium tokens between them, which were exchanged for raffle tickets to try and win further prizes. For his prize token, Dennis won a framed pair of Winston Churchill Crowns, which was just one number away from winning a Minelab detector. Dave, to his consternation, (having just purchased his new Minelab Explorer SE) won a Whites metal detector baseball cap. All three participated in the raffle with their tokens but were unsuccessful in trying to win some of the many desirable prizes. The finders of a gold coloured token were entered into a "Gold Rush" detecting event where the participants detected against each other in an arena to find another gold token to be exchanged for a five pound gold coin. The event was won by a young boy who was absolutely delighted at the outcome.
The AMDC trio retreated for the night for some well-earned refreshment, having completed over six hours of detecting on some fairly rough ground that became very unkind to the ankles, not to mention a long walk to the detecting fields. To add to the exhaustion, Dennis and John took the wrong way back to the rally HQ site, followed by a few others and rather than have to walk back all the way around the field, had to take a short cut and scale a huge 12 foot dry ditch which Dennis completed with an ease which would have looked impressive on the Krypton Factor assault course.
Day two
Bad news for Dennis when he remembered that he left his spade in the rally tent at the end of yesterday's events. Very fortunately, some kind person had handed it in, so he was re-united with his prized lucky spade, which he had kept for many years in its original form (just two new blades and three new handles) and was able to take part again.
Today's event was four hours detecting in very warm conditions, trying to find artefacts and coins of different metals and sizes, buried at various depths. All were painted a different colour and each had a points value. The size of the search field was HUGE! The object was to find as many as possible and obtain the most points. The three highest points scorers were entered into a "Detect-Off" in an arena to find one of three tokens, gold, silver or bronze. The successful detectorists had just one chance to find a token, and then had to retire from the arena after finding it. The finder of the gold token won The Pete Merriman Memorial Trophy, which was a cup for "The detectorist of the year". They also received five hundred pounds in cash. The silver token finder won a Viking metal detector and the bronze, Minelab clothing. The finders of gold coloured tokens in today's main event were entered into another "Gold Rush" to win a gold pendant. Dave took part in this but was unsuccessful. However with his usual amazing skill, luck and determined perseverance, he steered his new Explorer SE into the final competition after finding a large array of artefacts and coins of various sizes and colours. No mean feat when you consider that to find the highest points items, you had to use zero discrimination, and the field was absolutely littered with iron! So, forward to the Grand Final where Dave and two others faced each other in the detecting arena to find the elusive gold token. The crowd had gathered and you could feel the tension as the sound of the horn started the event. Very quickly, one contestant found a token and a nervous hush descended upon the crowd as they waited to discover which prize he had taken. His face turned to dismay as he checked it; "THIRD place!" was his disappointed reply. This left Dave and another detectorist, head to head in a rush to find the Golden Snitch (oops, sorry, been reading too much Harry Potter!).
Soon there was another heart stopping moment as the other contestant unearthed a token. The crowd held their breath as he examined it….. "SECOND place!!"
Dave was on his own to find the gold token. Dennis and John were leaping about shouting their encouragement. "Come on Dave, all you have to do is find it!"
"With this crowd watching? No pressure then!" was his reply. "How long have I got?"
"Probably until tomorrow!" we told him. "Hurry up!"
The seconds seemed like hours as Dave paced up and down the arena. There were some unkind remarks from the crowd about Minelab detectors, which he took in his stride and completely ignored, he was a man on a mission! Then suddenly he received a signal from within the arena, immediately he knew and punched his fist into the air, seconds later he was holding the gold token which meant that he had won the "Detectorist of the Year" event, the Pete Merriman Memorial Trophy and £500. This was presented to Dave by Pete Merriman's son and Brian Booth of the Warsop Metal Detector Society who had organised the rally. Dave received the prize to well earned applause from the crowd.
As a final note, there were a number of hammered coins and artefacts found, identified by Lincolnshire FLO Adam Daubney.
Special thanks to Brian Booth and his team of Warsop MDS for organizing the event that was highly enjoyable, rounded off nicely by Dave Rhodes, an AMDC member, winning the top prize.
Congratulations and well done Dave!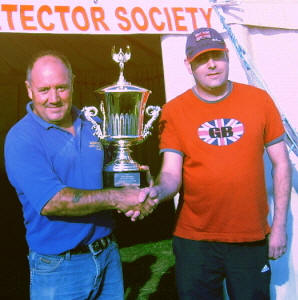 DETECTORIST OF THE YEAR
Dave Rhodes being presented with the Pete Merriman Memorial Trophy by Pete Merriman's son Darren.
(Please excuse the poor quality of the photographs, which were taken by a second-hand mobile phone)
Found Any Spindle Whorls Lately?
By Duncan Walters
There can't be many detectorists who have never found at least one lead spindle whorl, as they can be found on a range of different sites.

They were used in combination with the drop spindle and thought to have been in use for thousands of years. Lead whorls are difficult to date, as the basic shape has not changed much over time. Some are highly decorated, whilst others are just simple lumps of lead with a hole. They range in size from a couple of centimetres to 35 centimetres or more in diameter.

How a drop-spindle works

A handful of wool would be taken and teased out until it was free from lumps and tangles.

(Unwashed wool would be used as the natural grease (lanolin) helped in the spinning process.

A few fibres would be then drawn out from the wool and twisted in a clockwise direction to make a thread about 12cm long. Taking the spindle, the yarn would be attached to the notch at the top of the spindle stick.

Holding the wool in one hand and the spindle in the other, the spindle would then be twisted and spun in a clockwise direction. As the spindle was spinning, more fibres would be pulled out from the wool, allowing the twist to run up the fibres to produce a yarn.

The process would then be continued, drawing out the fibres until the spindle reached the ground, then the spun yarn would be wound on the spindle above the whorl allowing sufficient yarn to fasten by a hitch in the notch at the top of the spindle.

The process would then be repeated until sufficient yarn had been made.

Why different size lead whorls are found

The larger, heavier whorls were designed to spin thicker yarns, whereas the lighter smaller whorls were meant for finer yarns.
Iron Age Button & Loop Fastener


Late Iron Age - early Roman enamelled cast copper alloy button and loop fastener (toggle). The head consists of a square plate, divided into four triangular cells; two opposing cells contain red enamel, the remaining two contain white enamel. On the reverse, a sub-circular shank projects from the centre, and then turns at 90° and bifurcates to form a triangular loop (this is mostly broken off). Length 21.9mm, width 16.34mm, thickness 10.35mm, weight 5.78g.

Found by Ron Tansley on a club search.
Refuelling Stop !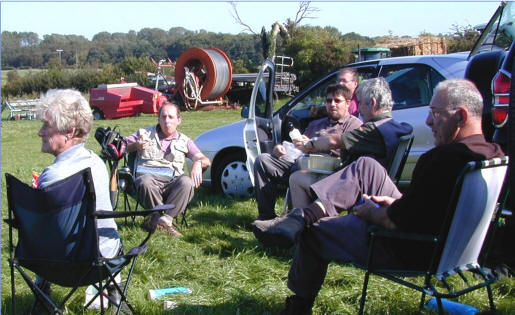 Members of the Ashfield Metal Detecting Club enjoying (?) a meal break before going back into the fields.
Member's Finds (not to scale)

August Find Of The Month Awards

Stephen 1135—1154
Silver Hammered Cut halfpenny.
Found by John Wardle.
Roman fantail brooch
1st.—2nd century AD
found by
Dave Rhodes


September Find Of The Month Awards

Roman gold aureus
Nero AD. 54—68.
Reverse.
Concordia seated.
Found by Bill French



Silver Gilt Post Medieval Dress Hook.
1500—1599AD.
Found by John Radford.

Roman brooch

1st.—2nd. Century

Found
by
Darren Hoyle

Silver Chatelain Chain



Found by Denis Brown

(unfortunately not on a club search)

140cm in length or in English 55 inches.
Medieval ring
Inscribed
JESUS OF NAZERETH
MARY
1553—1554
Hammered silver groat



PENCIL
SHARPENER

GOLD SOVEREIGN
George V dated 1914.
This mounted coin was found in a purse
by Denis Brown on a club search.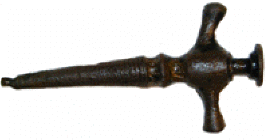 VICTORIAN BOTTLE OPENER
This unusual object is believed to be a Victorian bottle opener. It works in the manner of a hypodermic syringe and extracts the cork by injecting air into the bottle.
Mystery Object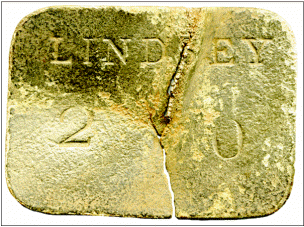 The Mystery Object in this issue of the newsletter was found on a club search in north Nottinghamshire.
It is made of copper, rectangular in shape with rounded corners. The incuse word LINDSEY and the numbers 2 0 appears on both sides. It is 49.5mm wide, 35.3mm high and 1mm thick. It weighs 10.8g.



Mystery Object Identified

In the newsletter of Spring 2006, Vol.2 No. 3 the Mystery Object was as shown in the picture on the left. This has been identified by several people and in particular by Terry Wildman an auctioneer who emailed :- 'Rather than the handle of a fire iron it is more likely to be the handle of a toasting fork of which I have seen dozens in my career as an auction room manager. Most often they have a screw thread on the base and come in various designs. You could say that they were like souvenirs and can often be found with different tops like churches, the Lincoln Imp was a popular one.'
Meet The Members

David Hallam

Although David has only been a club member for a few months he has entered wholeheartedly into club activities. He has volunteered to organize searches on Sundays for a trial period with a view to make it a regular club activity if there is sufficient support.

The club has enjoyed several searches organized by him and it is hoped that Sunday searches will become more popular, hopefully the number of club members attending each search will grow. At the moment only six or seven members attend, the usual suspects!

Dave uses a Tesoro Tejon as his main detector, he is pictured here with it on a recent Sunday search.
Medieval Key

Found by John Wardle on a club search awarded the October artefact find of the month. The coin of the month was awarded to Dave Hallam for his Henry 1V hammered silver halfpenny.
FIGURINE

Lead alloy figurine found by John Radford on a club search.

The age of the artefact is uncertain so we await dating and identification by Rachel Atherton, the Finds Liaison Officer.
John Radford's Tale

Thought I'd tell you this little story of mine, Dave Hallam thinks it's one for the book!

I managed to find a shiny little Edward 1st Irish penny on Thursday afternoon! So it was worth the drenching and having to be hosed down afterwards. Toward the end of the day I decided to have a last look at the other field on my own, I walked onto it and ten paces and two signals later unearthed a coin. Problems started then, in my excitement I dashed back to the other field to tell everyone, they were all miles away. John Wardle was the nearest, so I yelled and whistled but to no avail. Then I thought I saw John turn around, so I shouted "I've found a hammered!" and turned to look

at the prize clenched between my waving right hand finger and thumb. Horror descended on me as I realized there was nothing there....it had gone! No one had seen me so I was left on my own
to pace around with the detector, retracing my steps, trying to find it for the second time! I discovered I could speak Japanese or some other language, I'll leave it to your imagination as to the translation! Some hopes for the swear-box! Then after many minutes of fruitless search, I felt something nesting INSIDE the finger of my glove on my left hand. After a brief prayer, out it came... How the heck did it get there?

So now I can add MAGICIAN to my CV !
All That Glisters ?

By Duncan Walters

SINCE THE BEGINNING OF CIVILISATION MAN HAS PLACED GREAT VALUE ON GOLD

Even as far back as 4000 B.C. the Egyptians fashioned beautiful artefacts from the yellow metal. Considered the world over to be the symbol of everything precious and of lasting value, gold has taken many forms over the centuries: from nuggets, coins, ingots and idols. Considered valuable not only because of it's rarity but also because of nature's reluctance to give it up, gold is the first element mentioned in the Bible (Genesis 2: 10-12), and gold has fascinated and seduced man since the very beginning. It is considered the most beautiful of all metals and probably the earliest metal discovered by man. It is the only truly yellow metal found free and occurs almost pure in nature. It is non-magnetic and just one of more than one hundred elements that make up the Earth's crust. Gold is the most revered of the precious metals and is, and always has been, of the greatest economic importance. Many nations base the value of their currency on the amount of gold in their reserves. Gold is the only universally accepted medium of exchange.

Pure gold is soft, almost too soft to be used in jewellery without being alloyed with another metal. It is the most ductile and malleable of all metals and can be beaten into a sheet or leaf so thin that one ounce will cover an area of 160 square feet. It is said that a single ounce can be drawn to form a wire more than 60 kilometres long without breaking. Known as the "King of Noble Metals", it is virtually immune to the effects of oxygen and will not corrode or rust and is an excellent conductor of electricity. Gold cannot be broken down into any more elementary substances, nor can any other substance be made from it. Its colour and lustre have lured men and women with an irrational attraction since it was first discovered - many have succumbed to "GOLD FEVER". It has been said by many an outside observer, that once a person has been afflicted with "GOLD FEVER" one is then afflicted for the rest of their lifetime, an illusive love affair that never truly fades.

Gold is almost completely insoluble in nature and in ordinary acids, only a mixture of hydrochloric and nitric acids called "AQUA REGIA" and some cyanide solutions will dissolve it.

Gold takes many forms, from fine particles, almost invisible to the naked eye, through to nuggets many kilograms in weight. The largest nugget ever found in the world was found on 5th. February 1869 at Moliagul, just 14 kilometres northwest of Dunolly, in the heart of the Victorian Goldfields, Australia. It weighed a massive 2280 troy ounces. That's more than 70 kilograms. The Hand of Faith Nugget found at Kingower 30 kilometres north of Dunolly in October 1980 is the largest nugget known to remain in existence today. It is also the largest nugget ever found with a metal detector weighing 875 troy ounces, more than 27 kilograms. Sold in 1982 for a reputed sum of around AUD$1,000,000.00 it is now on display in the Golden Nugget Casino in Las Vegas. Gold nuggets are worth far more than crushed or smelted gold as each nugget is truly unique. Created by nature, no two nuggets are ever the same, each has it's own special beauty.

The Hand of Faith

SOME INTERESTING FACTS ABOUT GOLD

As with other precious metals, gold is weighed in Troy Ounces

World gold price is quoted in $US per Troy oz

Fine gold (Bullion) = 99.99% pure also known as Four Nines gold.

Gold has been used to make fine Jewellery for centuries. It has been alloyed with various other metals over the years to give it hardness or to change the colour slightly ie, Rose Gold.

The method used today to show the purity and hardness of a piece of gold jewellery is to quote how many Carats (or Karats) the gold is.

24 Carat = 100.0% pure
18 Carat = 75.00% pure
14 Carat = 58.33% pure
12 Carat = 50.00% pure
10 Carat = 41.67% pure
 9 Carat = 37.50% pure

Various metals are used to produce alloys including nickel, silver, palladium, & copper

TESTING FOR GOLD

How can you tell if its real gold?

Many tests can be done, the most common are; Scratch testing , when gold is scratched it leaves a mark of the same colour. Copper Pyrites, commonly mistaken for gold leaves a greenish / black powder and Iron Pyrites is very hard to scratch. When struck with a hammer gold will simply flatten but both copper & iron pyrites will be reduced to powder. Chemical testing, gold will not be affected by a drop of nitric or hydrochloric acid. Pyrites will foam slightly & eventually dissolve.
Duncan Walters

Traders' Tokens

A beautiful example of a 17th. century trade token, found by John Wardle, this piece was issued by the Overseers of the Poor in Grantham, Lincolnshire. It reads, 'A HALFPENNY TO BE EXCHAING / BY YE OVERSEERS OF YE POORE / GRANTHAM / 1667.' This token was issued in a time when small change in the official coinage was in short supply. Many similar tokens, usually for penny and halfpenny values, were issued mainly by tradesmen like the local baker, butcher, grocer or publican who would accept them as small change.
Written by John Gough, Club Librarian