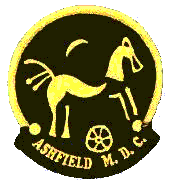 KAROLYN and ROBIN HATT MEMORIAL COMPETITION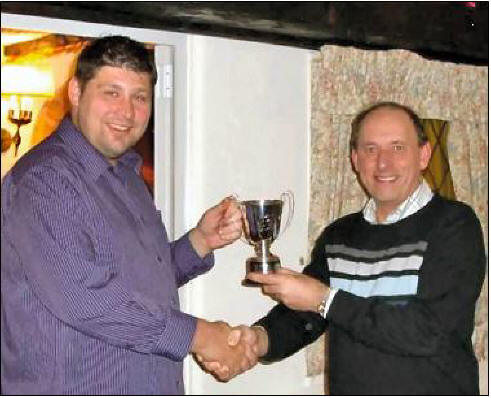 John Radford, club secretary, congratulating Darren Hoyle on his winning the Best Artefact division of the Karolyn and Robin Hatt Memorial Competition. More pictures inside on pages six and seven.
***

Find Of The Month October, 2009

COIN:- Carausius Roman bronze.
Found by Dennis Brown.

ARTEFACT:- Two Roman brooches.
Found by Jeff Oscroft.
***


Find Of The Month November, 2009

COIN:- Henry V11 half-groat.
Found by Dave Hallam.
ARTEFACT:- Fob seal.
Found by Dennis Brown.
***


Find Of The Month December, 2009

COIN:- Cartwheel penny.
Found by Dennis Brown.

ARTEFACT:- Medieval horse harness pendant.
Found by Gavin Phillips.
***


Find Of The Month January, 2010

COIN:- HenryV11 groat.
Found by David Rhodes.

ARTEFACT:- Two Buckles joint winners No images available.
Dennis Brown jointly with Graham Reedman.

***

OTHER FINDS SINCE THE LAST NEWSLETTER

Gerry Scothern Roman Brooch

Dave Rhodes seal 'FEAR GOD' not found on a club site.

Dennis Brown
'Half-crown'.
Graham Reedman
Merchant Navy badge.
Richard Waite
Sword or dagger chape.
***

IF THE DEVIL CAST HIS NET HE WOULD THROW HALF THIS LOT BACK!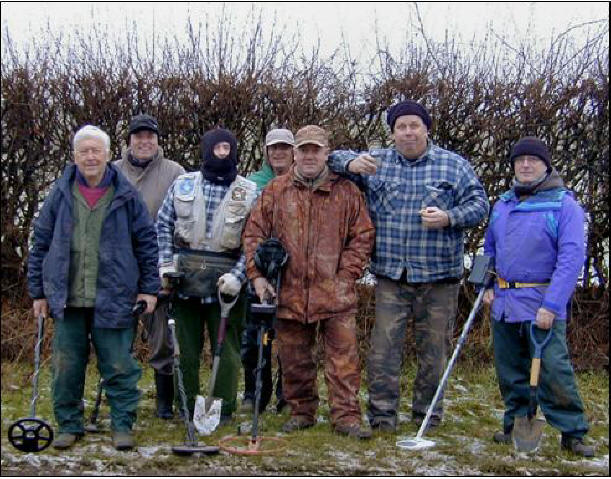 This hardy (mad) group of Ashfield Club detectorists braved a cold February day in the fields. ( Not many archaeologists in sight, mind you not many armchairs either).
The crew are from left to right:- Roger Bacon, John Radford, Dennis Brown (in his mini burka), Richard Waite, Dave Rhodes, Paul Wigginton and Gavin Phillips.
***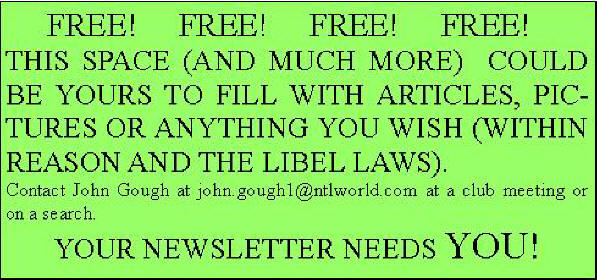 ***


KAROLYN and ROBIN HATT MEMORIAL COMPETITION

The results of the 2008 Karolyn and Robin Hatt Memorial Competition were announced at the November meeting of the National Council For Metal Detecting at Northampton. Of particular interest to Ashfield club members was the Best Artefact section. This was won by club member Darren Hoyle for his unforgettable find of a 15th. century gold clasp in the form of a miniature lock.
Darren was presented with the cup for the best artefact at the Ashfield club's Christmas party together with a beautiful turned wood bowl, hand crafted by Charles Smith of the N C M D South-West Region.

The Christmas 'Do'!

Darren Hoyle with Hillary Fagin, NCMD Competition Manager, and John Rigby, NCMD Membership Secretary.

Darren being presented with the bowl by John Radford, Ashfield MDC secretary.
Trophy for the best artefact.

A happy Darren with his awards.
N C M D hand turned bowl.

The miniature clasp lock is shown here with a five pence coin to give an impression of its size. On the right are images showing the words in full.

'CAUNS'

'REPENTIR'
***


THE AVRO VULCAN BOMBER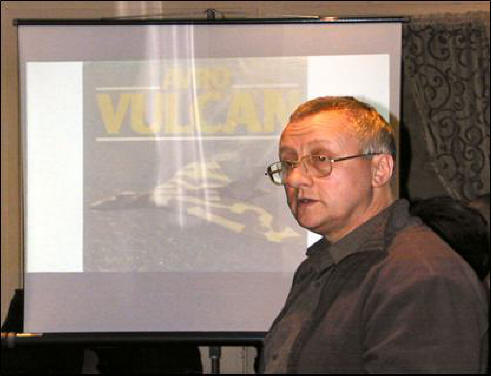 Kevin Robson
At the February club meeting Kevin Robson gave a talk about the Avro Vulcan bomber and its part in the defence of our country in the 'Cold War' until the Falklands and the attacks on Port Stanley airfield. A very interesting talk delivered well in spite of the cramped conditions due to the usual club meeting room being unavailable.
***


'BEERNOCULARS'



Gerry Scothern taking a dim view of life with the 'beernoculars' that he won in the club raffle at the February club meeting.

He is watched with amusement by Roger Bacon (seated) and (standing) Graham Reedman.
***

DISPLAY CASES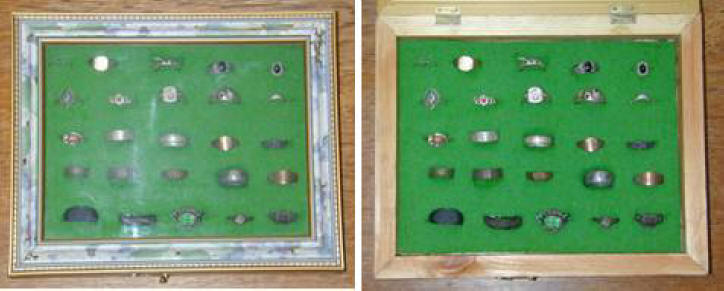 Dennis Brown, the club chairman, brought one of his home made display cases to a club meeting. The case is made out of picture frames, that can easily be obtained for very little money at charity shops, car boot sales and flea markets.
The image on the left is that of the display case with its lid closed, showing the reflection of the glass. The image on the right is without the lid and shows its contents more clearly. This case measures 9½" x 7½" x 1½" and holds twenty five rings.
***

DORA WITH HER EXPLORER. SAFARI SO GOOD!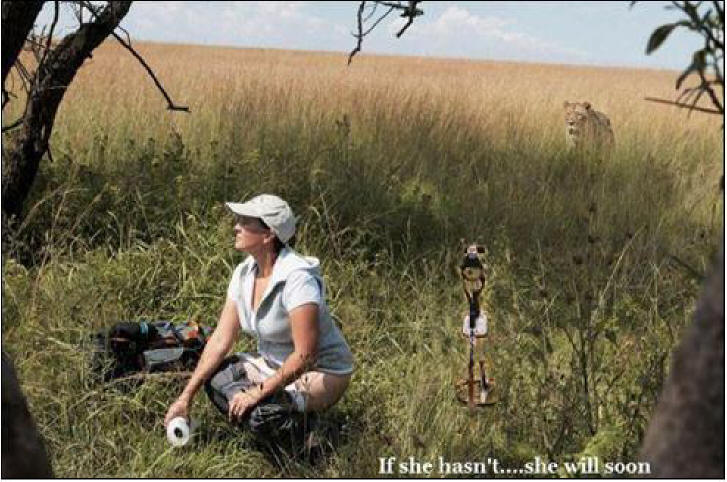 ***


BUSTS ON ROMAN COINS THAT MAY BE FOUND IN BRITAIN (3)

TRAJAN 98 - 117
Marcus Ulpius Traianus was born in Spain in A.D. 52. He was the first none Italian emperor, although his parents were from Italy. He advanced in the military and when governor of Upper Germany he was adopted by Nerva. Upon succession in A.D. 98 he greatly enlarged the Roman Empire by force of arms and diplomacy. The famous column was a tribute to his conduct of the Dacian War. A good emperor he died in A.D. 117.
HADRIAN 117 - 138
P. Aelius Hadrianus was born in Italica in A.D. 76 His father died when Hadrian was ten and Trajan became one of his guardians. A military career followed and marriage to Salinia, Trajan's grand-niece, followed in A.D. 100. He became emperor in A.D. 117. Hadrian is possibly best known for his wall building activities in Britain. He visited most parts of the Roman Empire during his reign and was a just and humane ruler. After a long illness he died in A.D. 138.
ANTONINUS PIUS 138 - 161
Titus Aurelius Fulvus Boionius Arrius Antoninus was born in A.D. 86. He entered the Senate becoming proconsul in Asia. Hadrian adopted him as his heir in A.D. 138, just before he died. Antoninus became emperor and was a just and impartial ruler. He brought a long period of tranquillity and prosperity to the Roman Empire He died in A.D. 161 and was succeeded to the throne by Marcus Aurelius.
MARCUS AURELIUS 146 - 161 - 180
Marcus Annius Verus was born in Rome in A.D. 121. He took the name M. Aelius Aurelius Versus when he was adopted by Antoninus. In A.D. 139 he became Caesar and in A.D. 145 married the daughter of Antoninus, Faustina Junior. In A. D. 161 on the death of Antoninus he became emperor. His reign had many different frontier troubles including the Parthian War. He died in A. D. 180 a good and conscientious ruler.
LUCIUS VERUS 161- 169
L. Ceionius Commodus was born in A.D. 130 later he was named L. Aurelius Verus. Adopted by Antoninus he became, on the accession of Aurelius in A.D. 161, co-emperor, He married the daughter of Aurelius, Lucilla. In the military campaigns of A.D. 163 to A.D. 165 he has considerable success. As a ruler he was weak and much given to his own pleasures. His death in A.D. 169, from a stroke, gave his senior partner, Aurelius, considerable relief.
COMMODUS 169 - 192
L. Aelius Aurelius Commodus was the son of Aurelius and Faustina Junior, he was born in A.D. 161. He became co-emperor in A.D. 177. His father died whilst they were both campaigning in the second Germanic War and Commodus returned to Rome to become emperor in A. D.180. Surviving several attempts on his life he was murdered by poisoning followed by strangulation by Narcissus, an athlete, in A. D. 192.
***


BOOKS

In this issue of our club newsletter I wish to draw your attention to a small book titled:-
THE SHORT CROSS COINAGE 1180 - 1247
Henry 11 to Henry 111
An illustrated Guide to Identification
by Christopher R Wren.
Plantagenet Books.
160- 164, Mortimer Street, Herne Bay, Kent. CT6 5DU.

I bought this book new in 1995 for £8.85 unfortunately I believe it is now out of print. The cheapest copy I could find was from Abebooks, on the internet, at £31.36!
This is a small book of 90 pages with many detailed illustrations in black and white of short cross coins together with lists of moneyers and their mints. Even for one who is not overly interested in hammered coinage I found this book enabled me to identify nearly every short cross coin and fragment I have found.
If a copy can be obtained at a reasonable price I would recommend it to any detectorist. JMBG.
***

GREAT SEAL OF THE KING OF ENGLAND
EDWARD 11 1307 - 1327