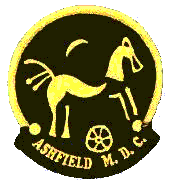 SILVER SURFER NORMAN!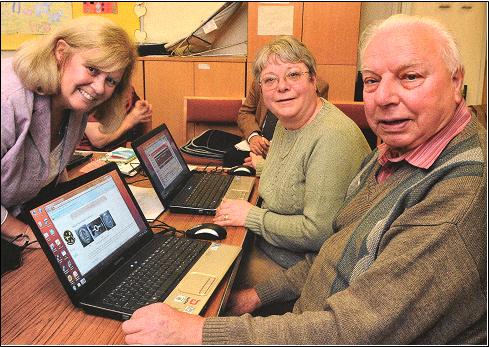 Ashfield Metal Detecting Club member, Norman Daynes, is pictured above with his daughter, Elaine, and (left) Community IT Champions coordinator Jane Jackman. at Kirkby's Centrepoint Community Centre
Norman owns an electrical shop so when one of his suppliers changed to conducting business online Norman, at the age of 86, decided in order to keep trading, to enrol with his daughter, for a course of IT training. However his love of metal detecting is still evident as shown in the photograph, on the laptop screen can be seen a page from the Ashfield Club website. The central image is the 17th., century double ended silver seal, of the Warburton family, found by him near Newark in March 2005.
Norman, in 1994, was a founding member of the club and he was made a life member in 2010. He is a skilled and dedicated detectorist with two "Find of the Year" and twenty "Find of the Month" awards to date!
***
FIND OF THE MONTH OCTOBER 2010

<![if !vml]><![endif]>

COIN:- Copper farthing.

Charles 1.

Found by Jeff Oscroft.

ARTEFACT:- Tudor belt mount.

Found by John Radford.

MOST UNUSUAL FIND

Ivan Falconbridge, toy aeroplane.


***
FIND OF THE MONTH NOVEMBER 2010

COIN:- Philip and Mary groat.

Found by David Hallam.
| | |
| --- | --- |
| | ARTIFACT:- Buckle. Found by Richard Waite. |
MOST UNUSUAL FIND

Awarded to John Radford for his "GEORGE".
FIND OF THE MONTH DECEMBER 2010 void due to bad weather.
FIND OF THE MONTH JANUARY 2011

RICHARD IS ALL "BROKEN" UP.

COIN:- Gold stater

Found by Richard Waite.

Unfortunately the coin was broken in half when found.
| | |
| --- | --- |
| | ARTEFACT:- Tudor dress fastener. Jeff Oscroft. |
OTHER FINDS MADE SINCE THE LAST NEWSLETTER


Casket key. Peter Mayfield.

***

MOST UNUSUAL FIND JANUARY, 2011.

Dennis Brown

NAMED HARNESS MOUNT

Found by Dennis Brown.

Trade directory research :- George Simpson, Saddler at 8, Leeming Street, Mansfield in 1869. Then Edwin Bennett, Saddler, shown at that address until 1900 when an entry in Kelly's Directory for that year showed E. Bennett, Saddler, with an address at 79, Leeming Street, Mansfield.. The 1904 directory does not list a Mansfield Bennett under saddlers.

***

East India Company 1/4 Anna, 1835

Found by Terry Hurt.

***

Trapezium shaped belt buckle. Found by John Radford

From the last quarter of the 16th., century to the end of the 17th., century. Smaller buckles of this type are spur buckles.



ASHFIELD CLUB FAMOUS LOOK-ALIKES.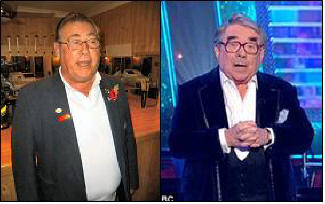 ***
I KNOW THAT POT OF GOLD IS HERE SOMEWHERE!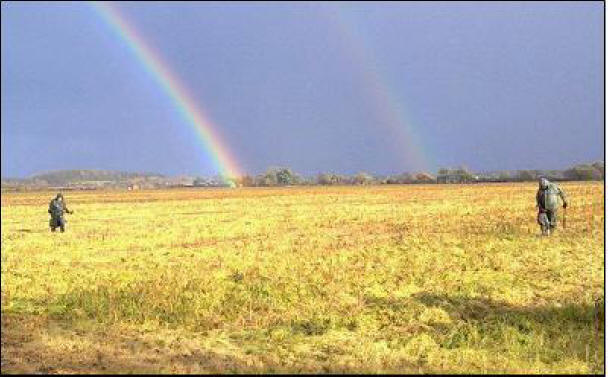 A FIELD IN NORTH NOTTINGHAMSHIRE
An idyllic scene, two dedicated detectorists, Dennis Brown and Paul Wigginton detecting on a stubble field. Idyllic, so it would seem, but that was far from the truth, it was one of the coldest, wettest and most miserable days of the year. The photograph above was taken during a few moments break in the rain.
Seven hardy souls braved the weather, unfortunately nothing of interest was found, not even a pot of gold!
No search fee was paid to this landowner instead it was donated, at his request, to the Lincolnshire and Nottinghamshire Air Ambulance Charity.
***
COMMITTEE FOR 2011—2012 (The usual suspects).

CHAIRMAN/SITE SEC.

SECRETARY

TREASURER

Dave Hallam

John Gough

Mary Severn

SEARCH SECRETARY COMMITTEE

Jeff Oscroft

Pat Walker

John Radford

Graham and June Reedman are committee members. June has the position of Site Marshal and is responsible for the conduct of searches.

They still prefer not to have their photographs published in the newsletter and have the two caricatures to represent them.
NOTTINGHAMSHIRE PLACE NAMES
BY
ANTHONY POULTON-SMITH
ASHFIELD
Saxon aesc+feld -Meaning open land where ash trees grow.
BLIDWORTH
BLEDEWURDA in 1180,Points to ( Enclosure of Blitha). WORTH-(Enclosure) something intended to keep livestock safe overnight.
CALVERTON
Old English calfra+tun, Meaning (The Farmstead where calves are reared).
FARNSFIELD
In 958 FEARNESFELD, Meaning (Open land where ferns grow).
COOMBS FARM (Broken Land) uneven,not uniform,difficult to work.
KIRKLINGTON
In 958 CYRLINSTUNE,in 1220 KIRTLINGTUN. Saxon personal name with Old
English ing+tun (The Farmstead of the family of CYRTLA)
MANSFIELD
In 1086 MAMESFELDE, it may be that the name comes from (Open Land by the river
Maun), This is a Celtic river name from NAMM.
NEWARK
Derived from Old English niwe+weorc, (The New Fortification).
OLLERTON
ALRETUN/ ALRETON 1176, Old English alor+tun Farmstead where alder trees grow
SHERWOOD FOREST
Old English scir+wuda (The Wood Belonging to the Shire).
SOUTHWELL
SUDWELLA in 958,SUDWELLE in 1086, suth+wella, Old English name for (Place at the South Spring).
COMMON PLACE NAME ELEMENTS
O/E -OLD ENGLISH O/S- OLD SCANDINAVIAN
BANKE-Bank,Hill,Slope O/S BEKKR-Stream O/S BROC-Brook,Stream
O/E BURH-Fortified Place O/E BY-Farmstead O/E
CEASTER- Roman Stronghold O/E FALD-Animal Enclosure O/E FELD-Open Land
O/E HLAW-Tumulus O/E SCEAGA-Small Wood,Copse O/E STRAET-Roman Road
O/E WUDU-Wood
Many Thanks to : THE HISTORY PRESS: www.thehistorypress.co.uk. Alan Roberts
***
JUST AN OLD VASE!

When this nicely decorated Chinese vase was put up for sale recently at Bainbridge's, a small London auction house, no one expected the bidding to be so intense. The winning bid was by a Chinese buyer who astonished everyone by bidding 83,000,000 dollars! That is nearly £52,000,000 in real money.

Peter Bainbridge, the auctioneer, said the sale price was more than forty times the pre-sale estimate, a record for a Chinese work of art.

The vase had been in the possession of the same family for over 80 years and the sellers, the sister and nephew of a deceased lady, from West London wish to remain anonymous.

( I bet they do!)
JEFF OSCROFT

Jeff has been a search secretary at the club for many years, so many years that no written records of those first searches exist.

Speculation was rife in the club when Jeff attended in collar and tie at a recent meeting. Guesses from the members to account for this sartorial splendour ranged from, a win on the lottery to him getting the job as a male model for the new Argos catalogue. The truth was eventually teased out of him. IT WAS HIS BIRTHDAY.
EXTRACTS FROM THE NOTTINGHAM AND DISTRICT YEARBOOK 1750.
Continued from the previous newsletter…………..
Owing to the bad state of the highways, the carriers, whether by pack or wheel-carriage, were in number very limited. So inadequate were these conveyances to accommodate the intercourse of the district, that no fewer than 400 saddle-horses were kept by the middle and trading class of Nottingham alone, a proportion of about one horse to each 29 inhabitants. These means of conveyance were, however, inaccessible to the generality of the working classes, who, when required at distant places, had to perform many a weary pilgrimage on foot. The idea of such a luxury as cheap railway trains flying at a speed of twenty miles an hour, would have been deemed highly Utopian and visionary. William Hutton states in his " Life," that when in business at Nottingham, (at about the date indicated in the margin.) he walked to London and back for the purpose of buying tools, and was nine days away from home, six of which were spent in going and returning. He travelled all the way on foot, dreading robbers, and still more dreading the cost of food and lodging at public-houses. His whole expenses during this toilsome expedition were only ten shillings and eight pence; but he contented himself with the barest necessities, keeping the money for his tools sewed up in his shirt-collar. If Hutton had lived in these days, he would, upon principles of sheer economy, taking into account the loss of time, have gone to London and back by a " Government train," as well as have avoided much fatigue and danger.
The nobility and gentry were accustomed to make their long journeys in ponderous family carriages, drawn by four horses- These vehicles would be laden at the top with an array of trunks and boxes, while perhaps six or seven persons, with a lapdog, would be stowed within. The danger of famine on the road was averted by a travelling larder of baskets of various condiments; the risk of thirst would be provided against by bottles of usquebaugh (whisky), black cherry-brandy and cinnamon water, port or strong beer.: while the convoy would be protected by basket-hilled sword, an old blunderbuss, and a bag of bullets and a great horn of gunpowder. Such protection in those days was necessary. The roads were infested with highwaymen, and stoppages were of almost daily occurrence. Many a Dick Turpin traversed the open roads and frequented the secluded nooks of this and the neighbouring counties, and an encounter with one or more of them was a contingency for which the prudent traveller had to provide.
The highwaymen were in general wary and desperate, well knowing that if once in the clutches of the law, their doom was certain. Death was the common punishment of this and other offences. " Guilty—Death," were familiar words in the criminal courts. It was death to steal mutton—death requited the industry of the burglar, the shoplifter, and the coiner—death attended all, and was regarded as the great conservator of social security. The murderer fared no worse than the robber of a hen-roost. All were thrust alike into an underground cell, and at the appointed hour, led forth to expiate their crime on the Gallows-hill.
Felons in the Town Jail were chained in vaults under the present building Their condition was at times wretched, the distemper known as " the jail fever " raging so violently as to decimate their number. Debtors were incarcerated in the cells above. The County Jail in the High-pavement, occupied but a part of the site of the present structure. It had a ham-like appearance, with three large wooden gates in front in a very dilapidated state, and was altogether little better than a ruin.
***
BUSTS ON ROMAN COINS THAT MAY BE FOUND IN BRITAIN (6)

Valerian 1 235—260.

P. Licinius Valerianus was born in 195 AD. Holding many offices of state until he was 60 years old when, on the death of Gallus, his troops proclaimed him emperor. In 253AD. he invaded Italy and became joint ruler of the Roman Empire with his son, Gallienus. In 260 he was captured by the Persians and remained in captivity for the rest of his life. The only Roman emperor captured in battle.

Gallienus 238—268.

P. Licinius Egnatius Gallienus, son of Valerian, was made co-emperor on his father's elevation in 253 AD. After Valerian's capture Gallienus became sole ruler of the empire. He was murdered at the siege of Milan by the commander of the Dalmatian cavalry a mobile strike force that he had created during his reform of the army.

Postumus 259—268.

M. Cassianius Latinius Postumus although of humble birth was a soldier of considerable ability. He was made commander of the Rhine legions by Valerian. In 259 he rebelled against Gallienus and ruled Gaul, Spain and Britain until 268AD. When he was murdered by his own troops at Mainz.

Claudius 11 GOTHICUS 268—270.

M. Aurelius Claudius was born about 215AD. Being an able soldier he rose to become one of the highest regarded generals. When Gallienus was assassinated Claudius was proclaimed emperor . In 269 AD. Although outnumbered he defeated the Goths in a great battle that earned him the name Gothicus. He died of a plague caught from Goths who survived the Battle.

Victorinus 268—270.

M. Piavonius Victorinus succeeded to the throne of the Gallic Empire in 268 AD. Spain refused to recognise him and central Gaul revolted. He suppressed the revolt in 270 AD. When he captured the city of Autun after a seven month siege. He built up anger among his officials by seducing their wives and was killed by one of his own officials after making sexual advances to his wife.

Tetricus 270—273.

C.Pius Esuvius Tetricus was the governor of Aquitania and on the death of Victorinus he succeeded to the throne due to the influence of Victoria the mother of Victorinus. When Aurelian invaded Gaul Tetricus surrendered to him. In an act of clemency Aurelian spared the lives of Tetricus and his son, they lived their lives out peacefully in Rome.
BOOKSHELF

On "The Trail Of The Legions" by Raymond Selkirk was given to me as a birthday present in 1996. The cheapest I have seen it on the internet is £27.50. The book is about a search for new evidence of the Roman military in Britain.

An army of occupation needs to be able to take rapid military policing action and needed an extensive network of roads. Hundreds, possibly thousands, of miles of Roman roads remain to be found in Britain. After the Roman withdrawal from, these military roads were unused by the Saxons except as a land boundaries. They are now disguised as field walls, edge lines, footpaths, bridleways and farm tracks.

The combination of research, map interpretation and keen observation is all that is required to rediscover them. This book gives techniques to assist the reader to identify Roman roads, bridges, dams, fords, signal stations and aqueducts. It is a worthy successor to his previous book, "The Piercebridge Formula" which upset the archaeological world on its publication. Another reason to read it is that he had time for, and used, metal detectorists in his research JMBG
GREAT SEAL OF THE KING OF ENGLAND — HENRY 1V 1399—1413.