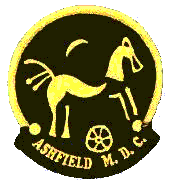 GAVIN PHILLIPS 'CLEANS UP'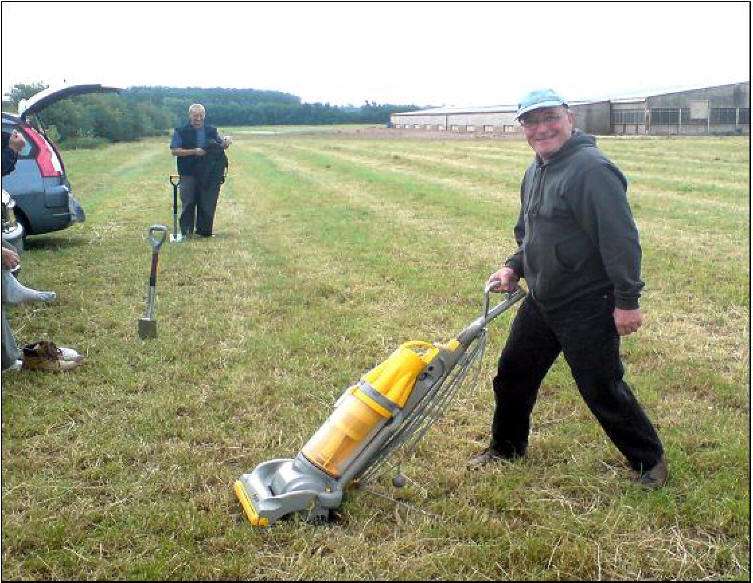 FIND OF THE MONTH JUNE, 2011

Coin:- Neil Tryner, Trajan denarius

Artefact:- Dave Budding, Palstave axe head.

No entries for the Most Unusual Find of the Month
FIND OF THE MONTH JULY, 2011

Coin:- Dennis Brown, John Duke of Brabent, silver sterling. No image available.

Artefact:- Neil Tryner, Roman brooch.

Most Unusual Find of the Month. Dave Hallam, Message Balloon
FIND OF THE MONTH AUGUST, 2011.

Coin:- John Radford, Edward 11 hammered silver farthing.

Artefact:- John Radford, Zoomorphic medieval swivel.

Most Unusual Find of the Month, John Radford 'Golden Handcuff'
FIND OF THE MONTH SEPTEMBER, 2011.

Coin:- Tony Elliot. Charles 11 half groat.

Artefact:- John Gough, broken Celtic clothes fastener.

Most Unusual Find of the Month:- 'Boars Tooth'
FIND OF THE MONTH, OCTOBER, 2011.

Coin:- John Wilkinson, Coenwulf silver penny.

JOHN WILKINSON'S COENWULF PENNY FIND OF THE MONTH SEPTEMBER, 2011

Report by Martin Allen, Fitzwilliam Museum on John's penny:-

Rory Naismith's recently published book 'The Coinage of Southern England 796—865' lists 24 other coins of the East Anglian moneyer Lul in this type of Coenwulf of Mercia (Naismith E10.2), but there is great variation in the inscriptions of these coins. This new coin is from the same obverse die as Naismith E10. 2f, which has the unusual reading +CONVVLCVEXM.

A SUPERB FIND FOR JOHN'S FIRST HAMMERED

Artefact:- Dennis Brown, Roman disc brooch

Most Unusual Find of the Month:- John Radford, Suggestive looking 'Gas Fitting'.

Luckily to preserve the reputation of this newsletter and so as not to offend the delicate sensibilities of our readers no photograph is shown!
DAVE BUDDING WITH HIS SUPERB PALSTAVE AXE HEAD
OTHER FINDS MADE OVER THE PERIOD

HENRY V111. 1509—1547.

Hammered silver groat Found by John Gough on a club search. Second coinage 1509-1547). Rose mintmark. Saltire abbreviation marks. North number 1797. PAS recorded. DENO-E13D87.
COPPER BRACELET

This copper bracelet was found by Terry Hurt on a club search. When found it raised considerable speculation as to its age from others on the search. Guesses ranged from Celtic to it being a modern copper bracelet used by a rheumatic sufferer. It was shown to the FLO for arbitration and Charlotte decided it was modern and not suitable for recording.
BARREL TAP WITH LOCK

This nice example of a barrel tap was found by Sylvia Tryner of a recent club search.

Members of the club, new to the hobby, may not know what barrel taps and keys were used for. To remedy this, reproduced on the facing page, is an article first published in the Spring 2006 newsletter.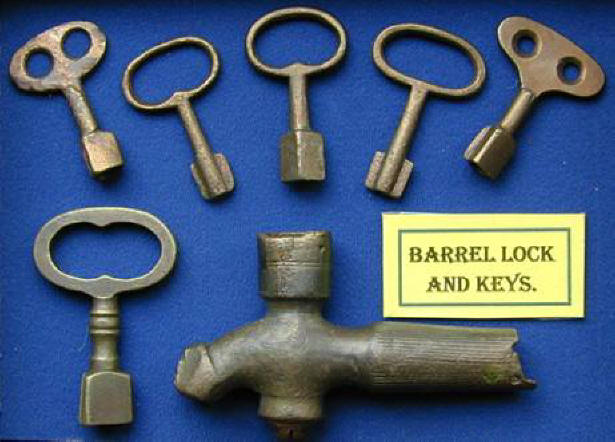 BARREL LOCKS AND KEYS
Most metal detectorists have found a barrel tap lock key and occasionally a barrel lock itself. This is a brief description and explanation of their use,
The barrel tap lock was designed with a collar that allowed access to the contents of a barrel by the holder of the key for that particular lock. Security was achieved by cutting a hole in the top of the collar that matched exactly the shape of the end of the key. The key then could be used as a handle to turn the tap on and off. Unfortunately the top of the cover is missing from the barrel lock illustrated above.
Tap locks and keys are not uncommon finds made by metal detectorists. This may indicate that they were in use in the fields, perhaps during harvests or social activities like, fairs, markets or even for farm workers refreshment breaks.

Display of Roman coins all found in the same field by Steve Smith.

TOY CANNON

Found by John Gough

ROMAN BROOCH

Found by Terry Hurt.

ASHFIELD METAL DETECTING CLUB BRITISH MUSEUM TRIP, AUGUST, 2011

SAM MOORHEAD

An enjoyable day out was experienced by members of the club when they visited the British Museum in London.

We were met there by T. Sam N. Moorhead FRS. Finds Adviser for Iron Age and Roman coins. Part of his duties include overseeing the recording and researching of Iron Age and Roman coins on the Portable Antiquities Scheme database.

Sam made the party very welcome and gave us a comprehensive guided tour of the Celtic and Roman Galleries. We were impressed with his knowledge of the coins and artefacts on display and his stated willingness to identify any and all Roman coins, irrespective of condition, found by club members. .

Many photographs of the displays were taken during the visit by Anthony James and John Radford some are shown on the following pages.

MAIN ENTRANCE BRITISH MUSEUM.

GOLD RINGS

HOARD FOUND AT.

THETFORD, NORFOLK.

GOLD TORC

Gold Noble and clipped gold noble of Edward 111 1354-5,

London mint.

Not all clipping was mischievous. Nobles of Edward 111 and Richard 11 were clipped down when the lighter weight standard was introduced in 1412 so they could continue in currency.
GOLD MEDALLION

This gold medallion was struck in Trier in AD 296 to commemorate the overthrow of the self-proclaimed Emperor of Britain, Allectus, by the Roman general, Constantius I Chlorus. The reverse side shows Constantius being welcomed by the personification of London at the gates to the city which he saved from being sacked. He is hailed as 'Restorer of Eternal Light' while his soldiers move up the Thames in a military troop-ship.

While in Britain legend has it Constantius met the Empress Helen and they became parents of Constantine the Great.


THE BATTERSEA SHIELD

The Battersea Shield is a sheet of bronze dating from the 1st., century B.C. or 1st., Century A.D. Although it has been suggested that it could date to about 300B.C.

It was dredged from the bed of the River Thames in 1857 during the excavations for Chelsea Bridge.

SAM MOORHEAD

'In full flow'
DEAD MEN TALK

DECADE RING

A talk and presentation on Archaeological Forensics was given by guest speaker, Lillian Dawes to the club at the June club meeting. It was interesting and much appreciated by the members present

This strange object was found, not on a club search, by Dave Rhodes. No one in the club could identify it. However John Radford researched it and came up with the following:- A lead or lead-alloy decade ring with an oval bezel and ten sub-spherical projections around the hoop. The bezel probably carried a relief-moulded religious motif, which has either worn flat or is unclear on the images. Their hoops usually have ten knobs, as on the present example, with the bezel forming a larger eleventh one. An Ave was repeated as each of the smaller knobs was touched, and a Pater Noster at the bezel. Examples date from the 15th to the early 19th century
MARKET TALLY

Found by Tony Knight on a recent club search.

W.Dennis & Sons Fruit and Potato Salesmen

26, James St., London, W. 1. 1894-1904.

The 5 shilling market tally shown here must have been for a very large or expensive container, the usual charge was sixpence or 1 shilling.

The purpose of the market tallies was to ensure that the containers, used by market wholesalers, were returned to the supplying wholesaler so either 1s. or 6d. was added to the bill for each container. To reclaim this deposit both the container and the tally had to be returned at the same time. This prevented the return of containers by unauthorised persons. It is believed that this security system was introduced in the 1860s and ended in the 1920s being replaced with an 'Empties Credit Note'.

PAY OF SOLDIERS IN THE REIGN OF EDWARD III. 1327 – 1377.

The King's army, in France, Normandy, and before Calais, besides the Lords, consisted of 1,294 combatants and attendants, and their pay for one year and 131 days amounted to £127,201 2s. 9d. The following specifications of particulars will furnish an. idea of the military pay and service of this time:-

" To Edward, Prince of Wales, being in the King's service in Normandy, France, and before Calais, with his retinue, for his wages, of war 20s. a day; eleven barinarets every one taking 4s. a day; 102 knights each 2s. a day; 264 esquires, each 12d. a day, 384 archers on horseback, each, 6d. a day; 69 foot archers, each 3d. a day; 513 Welshmen, whereof one chaplin at 6d. a day, one physician, one herald or cryer, 5 ensigns, 25 sergeants or officers over 20 men, each 4d. day; 480 footmen, each 2d. a day.

To Henry Earl of Lancaster, being in the Kings service before Calais, with his retinue and one other earl, each 6s. and 3d. a day; eleven barinerets, each 4s. a day; 193 knights, each 2s. a day; 5l2.esquires, each 12d. a day; 46 men at arms and 612 archers on horseback, each 6d. a day.

To William Bohun, Earl of Northampton, and his retinue, at the same rate.

To Thomas Hatfield, Bishop of Durham, 6s. 8d. a day, 3 barinerets, 48 knights, 164 esquires, 8l archers on horseback, as above.

To Ralf, Baron Stafford, and his retinue, as above.

These things appear in a contemporary record published by Dr. Brady in his History of England.
HAMMERED COIN STRAIGHTENING KIT

John Radford is highly delighted with his new hammered coin straightening kit. He won it in a recent E-bay auction. Although it is not of a suitable size to bring to search sites, he is willing, for a large fee, to straighten any bent coin at home.

John, however, cannot offer any guarantee that the straightening will be successful and can not accept any claim for damage to the coin arising from his actions.
BOOKS

The book for this issue of the newsletter is The Kings and Queens of England by Ian Crofton. The edition I was lucky enough to have been given as a birthday present in 2009 is hardback with dust cover and 256 slightly larger than A4 pages. Price then £16.99. The description on the back cover of the book is as follows:- A lavishly illustrated history of the lives and reigns of the kings and queens of England - from the house of Wessex to the house of Windsor. Lively accounts of the lives and reigns of 59 English monarchs from Alfred the Great to Elizabeth 11. Detailed timelines, key biographical facts, feature boxes and display quotations for each monarch. Generously illustrated with 135 full colour images. Includes complete family trees for each royal house and an index of names and events. The cheapest price on the internet was £9.30,

however that came with a postage charge of £12.79. It was from South Africa! The cheapest UK price was £11.45 and delivery at £2.45 from Uncle Phil's Bookshop, Coventry.
GREAT SEAL OF THE KING OF ENGLAND HENRY V1 1422-1461, 1470-1471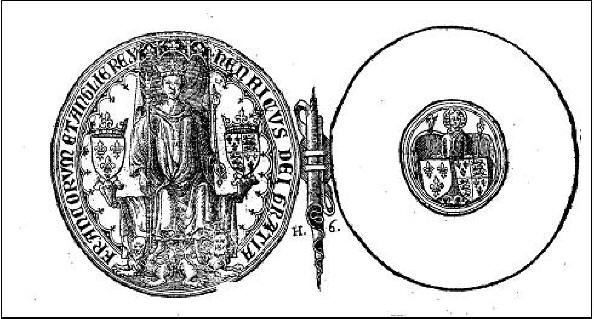 Ashfield Metal Detecting Club reserves the right not to be responsible for the
correctness, completeness or quality of the information provided in this newsletter
and does not, necessarily, support the views of the contributors
***
Please note that the illustrations in the newsletters are not to scale.
***