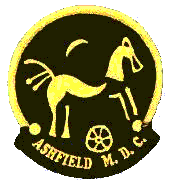 LORD OF THE RINGS

Alan Roberts with a ring he found on a recent carboot site search held by the club. Although most of the club members prefer other venues the shortage of searchable land, during certain times of the year, makes the use of such sites necessary. On the bright side most members come away with a few pounds in spendable money enough usually to pay, at least, for the cost of the search.
SEVENTEENTH CENTURY TRADERS' TOKEN

Found by John Radford on a club search in Nottinghamshire, this token is previously unrecorded. It reads,

THOMAS COULTMAN IN NOTTINGHAM.

Nothing is known of any tradesman by this name, the lion may refer to a public house.

TRADERS' TOKENS

In 1671 the amount of traders' tokens in circulation in England increased to such an extent that the government announced the intended issue of halfpence and farthings to supersede them. In 1672 a proclamation prohibiting the making or use of any such private tokens was issued, and stringent measures were taken for their suppression. From that time their use rapidly declined and from 1672 until 1786 no traders' tokens were struck in England. Then, due to the lack of base metal coinage, in 1787 unofficial production was resumed.
FIND OF THE MONTH FEBRUARY, 2011.

COIN:-

ARTEFACT:-

JOINT WINNERS

Richard Waite.

Roman Brooch

Dennis Brown.

Horse pendant.
FIND OF THE MONTH MARCH, 2011

COIN:-

Gavin Phillips King Henry 111 1216—1272 Long cross hammered silver penny.

The cross served two purposes, firstly to prevent the clipping of the coin, if any of the arms of the cross was cut away the coin ceased to be legal tender. Secondly to enable the coin to be cut in halves or quarters to make halfpennies and farthings this ceased in the thirteenth century when round coins for these values were introduced.

ARTEFACT:-

Dave Rhodes

Celtic dress fastener.
MOST UNUSUAL FIND IF THE MONTH, MARCH, 2011.
Dennis Brown. Brass " HIDDEN DRAGON" name plate.
FIND OF THE MONTH, APRIL, 2011.

COIN:-

ARTEFACT:-

John Radford, Tudor dress fastener
FIND OF THE YEAR, APRIL, 2010 to MARCH, 2011.

COIN:-

Richard Waite

Gold stater

ARTEFACT:-

Bronze Age Axe head. 2000—1700bc.

Found by Dave Hallam. ( See PAS report below.)
FIND OF THE MONTH, MAY, 2011.

COIN:-

James 1 half groat found by Derek Battle

ARTEFACT:-

Shoe buckle 17/18th century found by John Gough.

MOST UNUSUAL FIND:-

Hearing aid found by Dennis Brown.
FINDS MADE OVER THE PERIOD

Jeff Oscroft.

Roman bronze coin of the house of Constantine

Richard Waite

Queen Victoria silver threepence, dated 1892.
BRONZE AGE AXE HEAD

The axe head was found in two parts, the larger part (Find of the Year) by Dave Halam in March, 2010 and the smaller one, in the same field, almost a year afterwards by Dave Budding.

(The description and report alongside was prepared by the PAS FLO Charlotte Burrill.)

***
James V1 of Scotland acceded to the English throne upon the death of Elizabeth I in 1603 becoming James I He is well known for upsetting the Catholics by imposing heavy fines on anyone not attending Protestant church services which eventually lead to the infamous Guy Fawkes and the gunpowder plot.

This Scottish Merk of 1603 was recovered by Dave Rhodes.
FIRSTS FOR CLUB MEMBERS

Alan Roberts with his first Roman brooch

John Wilkinson with his first Roman brooch

Pete Dawson with his first tractor jack
FIND OF THE YEAR 2010 - 2011 AWARDS.

Richard Waite being presented with the coin Find of the Month Award by the Club chairman, Dave Hallam.

Gold Stater

Dave Hallam being presented with the artefact Find of the Month Award by Dennis Brown, previous club chairman.

Bronze Age Axe Head.
| | | |
| --- | --- | --- |
| CHAIRMAN'S AWARD | | DETECTORIST OF THE YEAR |
| | | |
| Gavin Phillips proudly displays the cup presented to him by the club chairman. It is awarded to the member who, in the opinion of the chairman, has done the most to live up to the spirit of the club in the past year. | | Dave Hallam, club chairman, presenting the Detectorist of the Year shield to Jeff Oscroft. It is for the detectorists who has accumulated the most Find of the Month points during the last club year. |
"WASTE OF TIME TEAM" DIG.

Philip (Phil) Harding (born 1950) is a British field archaeologist who has been a regular member of the Time Team from the first series in 1994 to the present. (Photograph by Anthony James, taken at the Clipstone dig.)

King John's Palace, Kings Clipstone, as photographed by David Hallam, during the recent Time Team dig. David managed to take this and the following photographs before being escorted from the site. Although he had assisted the Time team on the Codnor Castle dig he was not allowed on site at Clipstone!

KING JOHN'S PALACE.
When King John's Palace was first built, sometime before 1164, it was a timbered structure. In 1180 it was rebuilt in stone to become the principle hunting lodge and royal residence in Sherwood Forest. Royal visitors to the lodge included Henry 11, Richard 1, John, Henry 111, Edward 1, Edward 11, Edward 111, and Richard 11. Many of the royal visitors stayed for weeks or months at a time which meant that the accommodation must have to a high standard, although it is recorded as being in a ruinous state in 1525. Another indication of the importance of the building was that Richard 1 met William King of Scotland in 1194 and Edward 1 held Parliament there in 1290. It was one of the first three listed buildings the others being Stonehenge and Fountains Abbey.
King John was born in 1167 and died in 1216, he reigned from 1199 to 1216.
***
BIRMINGHAM BUTTONS
(Knight's Penny Magazine for the diffusion of useful knowledge 1844)
Buttons are among the most remarkable manufactures of Birmingham, and one of the few which are conducted on what may fittingly be termed the factory-system, since there are establishments in which some hundreds of persons (five or six hundred in one instance) are employed in one building, all making buttons. It is indeed surprising to see the extent to which so trifling an article influences manufactures, when once it has become a ruling item of fashion.
Button-makers are now among the best-employed artisans of the town. Half a century ago Hutton spoke of the button-trade at Birmingham in the following quaint terms "This beautiful ornament appears with infinite variation; and though the original date is rather uncertain, yet we well remember the long coats of our grandfather's covered with half a gross of high-top, and the cloaks of our grandmothers ornamented with a horn button nearly the size of a crown-piece, curiously wrought, as having passed through the Birmingham press."
Though the common round button keeps in with the steady pace of the day, yet we sometimes see the oval, the square, the pea, and the pyramid flash into existence. In some branches of traffic the wearer calls loudly for new fashions; but in this the fashions tread upon each other and crowd upon the wearer. The consumption of this article is astonishing, and the value from three-pence a gross to one hundred and forty guineas.
There seem to be hidden treasures couched within this magic circle, known only to a few, who extract prodigious fortunes out of this useful toy, whilst a far greater number submit to the statute of bankruptcy. Trade is like a restive horse and can rarely be managed; for where one is carried to the end of a successful journey, many are thrown off by the way. Buttons, it must be owned, are not now such splendid affairs as they were in Hutton's time, but the trade has probably vastly increased in extent.
The materials of which buttons arc made are very various, and this variety gives rise to a subdivision somewhat akin to that which we have already noticed although not so marked. Besides the well known gilt buttons, plain and figured, there are plated silk, florentine, and other covered buttons, pearl, horn, shell, bone, wood, glass, and porcelain buttons, and probably many others.
The establishments of Mr. Elliott and of Messrs. Hammond and Turner, two of those in which buttons are made to a vast amount, are among the most inter­esting in Birmingham. The former of these factories consists of a number of distinct buildings encompassing an open area or court, and each devoted to a particular kind of button-making, or a particular department of the general manufacture. The number of females to which the process gives employment is very large, and the nimbleness with which most of the processes are carried on by them is truly remarkable.. (To be continued if so required………….)
Stamping, pressing and punching buttons, Elliott's factory, Birmingham 1840.
***
DISPLAY OF BUCKLES
Dennis Brown brought this superb display of buckles in case to the club at the May meeting. The display case is made out of a picture frame with glass mounted on a simple frame using two small brass hinges.
The buckles can be dated from Roman to relatively modern times.
They have been carefully cleaned and preserved by Dennis. Well worth viewing.
***
BUSTS ON ROMAN COINS THAT MAY BE FOUND IN BRITAIN (7)

CARINUS 283—285.

M. Aurelius Carinus was born about A.D. 249 the elder son of Carus. He was made Caesar and when his father and younger brother left for the Eastern frontier he stayed in Rome to tend to affairs. He was raised to Augustus in A.D. 283. In a battle near Verona he defeated Julianus and then advanced against Diocletian. During the battle he was murdered by one of his own officers and his troops joined Diocletian.

DIOCLETIAN 284—305.

Gaius Aurelius Valerius Diocletianus was born at Split, Dalmatia in A.D. 245. He became Commander of the Imperial Guard becoming emperor in A.D. 284 after Numerian was assassinated. He established a tetrachy of two Augusti and two Caesars but retained the right to make final decisions. Diocletian introduced many reforms including the coinage. He reigned for twenty years passing his old age in retirement.

Carausius 286—293 (In Britain)

Marcus Aurelius Maus Carausius was born in the Netherlands. He became commander of the Channel Fleet tasked with clearing the North Sea of pirates. He was successful but failed to hand over recovered booty to Maximian who condemned him to death. Carausius fled to Britain and was proclaimed Emperor by his troops. Surviving invasion attempts he was assassinated in A.D. 293 by Allectus his finance minister.

ALLECTUS 293—296 (In Britain)

Details of his birth are unknown. He was either the finance minister or Praetorian Prefect to Carausius. After assassinating Carausius in A.D. 293 he was declared Augustus by the troops in Britain. Constantius being in Gaul prepared a fleet, invaded Britain and defeated the forces of Allectus in A.D. 296. Allectus either committed suicide or was killed during the battle. Britain then came back under the rule of Rome.

MAXIMIAN 286—305 1st. Reign, 306—308 2nd. Reign, 310 3rd. Reign.

Marcus Aurelius Valerius Maximianus Herculius was born about A.D. 250 in the Balkans. Diocletian raised him to Caesar in A.D. 284 and to Augustus in A.D. 286 responsible for the Western Empire. He made his headquarters in Gaul and restored order to the province. He abdicated in A.D. 305 returning in A.D.306 to abdicate again in A.D. 308. later he rebelled against Constantius and committed suicide in A.D. 310.

CONSTANTIUS 293—305 as Caesar 305-306 Augustus

M. Flavius Valerius Constantius was born in the Balkans in A.D. 250. Serving in the military he became governor of Dalmatia and then made Caesar in A.D. 293. In A.D. 296 he successfully invaded Britain and restored it to the empire. In A.D. 305 he became Augustus. While campaigning against the Picts he became seriously ill and died at York in A.D. 306..
BOOKS

CHRONICLE OF THE ROMAN EMPIRE

In this issue of the newsletter I would like to introduce you a book by Chris Scarre, Chronicle of the Roman Empire. This is a hard cover book published in 1995 by Thames and Hudson.

The cheapest I could find it on the Internet was at Amazon £6.85 and £2.30 postage from Goldstone books.

It has 328 illustrations 111 in colour and includes coin portraits and busts of each emperor, maps and battle plans and cutaway diagrams of imperial monuments. It gives biographical accounts of all the emperors from Augustus to Constantine the personalities and eccentricities of the famous Claudius, Trajan, Hadrian, Diocletian and the infamous Caligula, Nero, Caracalla, and Elagabalus.

I would like to recommend this book to fellow detectorists.
GREAT SEAL OF THE KING OF ENGLAND. HENRY V 1413—1422.
***
Ashfield Metal Detecting Club reserves the right not to be responsible for the
correctness, completeness or quality of the information provided in this newsletter
and does not, necessarily, support the views of the contributors
***
Please note that the illustrations in the newsletters are not to scale.
***