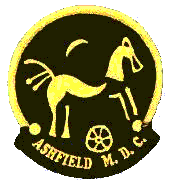 JOHN RADFORD PROUDLY SHOWS OFF HIS NEW DETECTOR.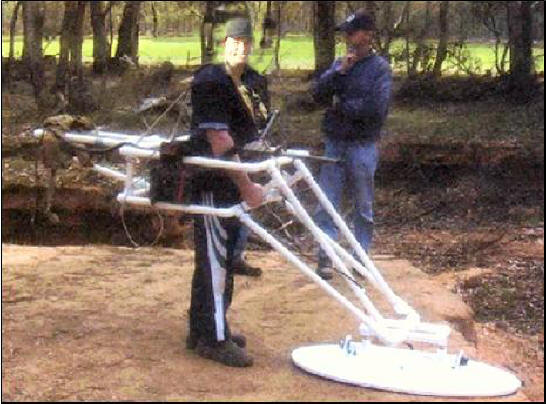 John Radford has kindly allowed the use of this photograph of himself demonstrating his new Minelab detector. John says that it is fantastic with a depth of three yards on a cut half. The only drawbacks are that it is a tad heavier than his old Explorer and he only has time on a search to dig two signals. Most of the time being taken up by excavation and having to shore the sides of the hole up in compliance with 'Health and Safety' regulations! Unfortunately the machine does not discriminate so John is well on the way to having one of the best collections of rusted iron in the club.
Minelab have designed their new detector after the lunar exploration probes naming it the 'Lunatech. It is reasonably priced it at £9,999.99.
FIND OF THE MONTH NOVEMBER
Coin:- John silver hammered penny. Found by Dennis Brown.

Artefact:- Roman brooch 1st./2nd. century. Found by Jonathan Bryant,
FIND OF THE MONTH DECEMBER

Coin:- Edward111 hammered silver penny. Found by John Wardle.
No image available.
Artefact:- Large mount. Found by John Wardle.
FIND OF THE MONTH JANUARY
Coin:. Roman bronze of Faustina Junior. Found by Jeff Oscroft.
Artefact:- 17th. Century silver buckle. Found by Jeff Oscroft.
FIND OF THE MONTH FEBRUARY

Coin:- Silver hammered penny of Matilda or Stephen. Found by Graham Reedman.
Artefact:- Silver salt spoon, the bowl is made from an Indian two anna coin dated 1897. Found by Dennis Brown.
OTHER FINDS MADE SINCE LAST NEWSLETTER

Dutch long service medal. Awarded for 24 years meritorious service.


Set of medals Derek's is second left.

Found by Derek Crabtree on a club search.

MONEY TO MONEY

A ten pound note found by the club treasurer, Mary Severn, on a club search. Judging by its condition it had not been recently lost. Exhaustive enquiries were made but the loser could not be traced. (Much to Mary's delight).
Whistle and a cut half penny found by David Hallam.


Barrel tap found by Jeff Oscroft
KING DENNIS the FIRST


This is a mystery coin. It appears to be a short cross silver penny and although the face is clearer than usual no one has put a name to it. It has been suggested that it bears a resemblance to our chairman, Dennis Brown but that has been disregarded mainly because even he was not around in the 12th. century!
ANNUAL GENERAL MEETING 2008 - 2009 HELD ON 2ND. MARCH, 2009

COMMITTEE FOR 2008 - 2009

CHAIRMAN
Dennis Brown

SECRETARY
John Radford

TREASURER
Mary Severn

SEARCH SECRETARY*
Paul Wigginton
COMMITTEE


Dave Rhodes


Jonathan Bryant


Pat Walker


Bill Severn


John Wardle

ANNUAL GENERAL MEETING


The March, 2009, club meeting was the Annual General Meeting. The members pictured above were elected to form the new committee for the year ahead. The position of site secretary was left open for a review of the post to be made. *In the meantime Paul Wigginton will carry out the duties until the matter is clarified.
CHAIRMAN'S AWARD PRESENTATION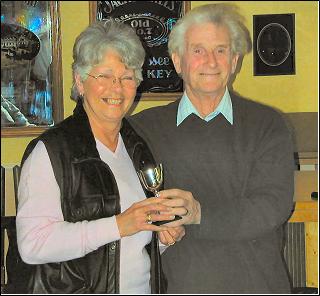 Mary Severn Dennis Brown
The Chairman's Award this year was awarded to the club treasurer, Mary Severn, for being, in his opinion, the person who has contributed most to the club in the past year.
Treasure Valuation Committee
Finds of Treasure where an abated reward has been made. Report by Trevor Austin.
Advice
Some metals, when removed from the ground, such as gold or silver-gold alloy, can be readily identified without cleaning, however it is best not to attempt to clean any find you discover.
Keep the find in a dry stable condition and take it to a museum or your local finds Liaison Officer (FLO) for professional advice. The original surface can yield important information about the object's manufacture or use.
A series of advice leaflets will be produced shortly by the Portable Antiquities Scheme which should prove an invaluable source of information for the storage and conservation of finds.
Finds of Treasure Where an Abated Reward has been made between 1999 and 2004.
Anglo Saxon Pommel. Discrepancy over find spot. 10% from finders share
Bronze Age Jewellery Conflicting evidence as to whether landowners had given permission to finders. 10% from landowners share added to finders share.
Gold Coins. Failure to report after advice within 14 days. Police recovered coins. 50% from finders share, i.e. 25% of total.
Silver Spoon. Inexpert cleaning 20% from finders share.
Gold Staters. Failure to report within 14 days. (coins found gradually over 2 years). Coins had not been reported promptly or honestly. Attempted amateur excavation of find site. 60% of total.
Medieval Finger Ring. Failure to seek permission to detect. 2 months delay in reporting. 5% from finders share.
Roman Coins. Police had to recover quantity of coins. Not reported promptly. 60% from finders share.
Romano British Finger Ring. Heavy cleaning which may have led to loss of decoration. 20% from finders share.
Anglo Saxon Mount. Soldering together of two fragments and failing to record find-spot. Also failed to ask permission of landowner. 15% from finders share.
***
EMAIL RECEIVED BY JON WELCH OUR WEBMASTER.
Hello Webmaster,
The button found by Eric Pursglove on your summer 2008 newsletter is a woman's livery button. A woman's coat of arms is in a lozenge, and this is a prettied up shape of a lozenge. The arms in side are quartered, so probably she could bear arms inherited from her father, husband etc. If there is a back mark on the button this site may help with dating the button: http://www.ukdfd.co.uk/pages/buttonsgtom.html regards, Jenny Swindells. A button collector who lives in Nottingham.

The club would like to thank Ms. Swindells for her identification of Eric's button. If any member collects or is interested in buttons of all types please contact The British Button Society on their website www.britishbuttonsociety.org. for membership details.
Priscilla Langridge has kindly given permission for her article about Masonic Tokens in the Coin Monthly December 1971 to be reproduced here.
PART ONE
MASONIC TOKENS
Priscilla Langridge
It is not often that one has the opportunity to buy the Masonic token, known as The 'Mark Penny'. Occasionally one either turns up in a collection of coins, or may even be found in one's change as was the 'Stock Mark Penny', with 1928 penny reverse, and the incuse keystone on smoothed obverse (found by E.J. King of Banbury). These tokens, generally overlooked by numismatists, can mystify the finder unless he is a member of the fraternity. When studied these 'Mark Penny' tokens can be quite intriguing. An interesting collection can be made, and if time is spent in delving into Masonic allegory and the mystical signs used, quite a fascinating field is opened up for study.
The Masonic collector may have difficulty in obtaining specimens as members of the Chapters cherish their 'Mark Pennies' highly, and seldom part with their own specimen. Some Chapters are prepared to sell or exchange their penny tokens, but it appears that the practice of giving these is dying out, and hence few are obtainable in Great Britain. These tokens originated from an old custom of giving tokens, whether in lead, wood, or metal of some kind, to travelling Masons. With these tokens a Mason was ensured recognition and hospitality. Among the ancients of mythology, Jason (of the Golden Fleece) promises Medea, on her parting from him to send her the symbols of hospitality, which would have ensured for her a kind reception in foreign countries.
The Romans used small tessarae of bone, ivory. stone and lead suitably inscribed and broken into two halves which could be matched at a future time and friendship renewed. Mackay says that tessarae were a means of introduction of Christian to fellow Christian.
Tokens recorded as 'Jetons de Presence' were given in French lodges to Masons present such as are given today to Brethren entering a Grand Lodge.
At one time it was common practice for each lodge to have its own special dies made, each with carefully engraved symbols pertaining to the Chapter. At the founding of a lodge, founder members would receive their penny as a symbol of brotherly fellowship.
Special tokens are manufactured from engraved dies for those Masons who attain a high degree and on these we see inscribed the keystone and THEY RECEIVED EVERY MAN A PENNY.
Some Masonic tokens arc made to commemorate special Chapter anniversaries such as the founding of a lodge. All these little metallic tokens symbolise friendship and brotherly love and bear a mute testimony throughout the ages. To Mark Masters they are the emblem 'of a day's wages'. Tradition relates that St. Alban, born 300 AD at Verulanium (now St. Albans) '... loved Masons well and cherished them much, for he gave them two shillings per week and fourpence to cheer them. whereas before that time, in all the land a Mason had but a Penny a Day and his meat until St. Alban mended it.
Some Chapters do not necessarily wish to have their own engraved dies made and use the manufacturer's 'Stock Mark Pennies'. These are not so interesting and usually fairly plain sometimes with a countersunk design and arc generally devoid of beauty. Other Masonic tokens are more like medalets since they are of keystone shape instead of the general round type. These are generally made in copper or bronze but some can be found in white metal, brass and silver. A few are engraved with a particular 'Mark' which is placed on record. These marks arc held as sacred tokens of the rites of friendship and brotherly love. (To be continued).
<![if !vml]>
<![endif]>



***




WATCH KEY WINDER FINDS NEW HOME.

The following is a series of emails to the club by Jeff Taylor of Ipswich.

*

I notice in your Summer 08 newsletter that you have a picture of a watch key winder for J Fowler, Derby Road, Nottingham. I am almost certain that this is my great grandfather John Fowler who ran a watchmaker/jewellers shop from various premises in Derby Road in the period 1880s to 1910.Would you be prepared to sell it? I would love to acquire it for a reasonable sum. Jeff Taylor.

Jon Welch the club website manager passed your email on to me because I compile the club newsletter also the J. Fowler watch key is included in my collection of named watch keys. I have collected these keys over the past thirty years and the one in question was found by me at Bulwell Hall Park, Nottingham about twenty five years ago. It is in reasonable condition apart from the ring being missing, unfortunately this is not uncommon. If you email your address I will send the watch key to you. There is no question of payment, it is part of your family history and should be with you. However if you can provide me with any details of John Fowler likely to interest readers of the newsletter I would appreciate it and possibly include them in the March/April issue. John Gough.

The Watch Key Winder arrived safely this morning. What a find it is and in such good condition. All the family send their thanks. My elder sister did have a Fowler watch but this was sadly lost in a burglary some years ago. The watch key winder is the only artefact that we have from the Fowler watchmaker days so it will be very treasured. The address on it is 54 Derby Road and I confirm he was at this address as early as September 1887 when his wife gave birth to twins. Sadly we don't have a picture of John Fowler, but I do have one of my grandfather Walter which is enclosed.

John Fowler born 6 November 1850 in Chesham, Buckinghamshire married Emma Jane HUNT in London 20 May 1872. Emma died of TB 23 May 1895 in Nottingham John remarried Harriet MARSHALL in Nottingham 1 Feb 1901. John died 13 July 1914. John and Emma had 7 children including John Walter (known as Walter) born 23 October 1880 in Chesham. John is listed as a watchmaker and jeweller on Chesham High Street in 1871 and 1881 censuses

Both my great grandfather John Fowler (born 1850) and my grandfather Walter Fowler (born 1880) were watch makers & jewellers. They were both born in Chesham, Buckinghamshire and John learnt his trade with the Jordan family at Chesham who made fine clocks, which sometimes come up for sale. The family came to Nottingham in the 1880s and occupied several shops over the years for their trade in Derby Road. Around 1900, Walter moved to St Ann's Well Road where he operated his own watchmaker business. Towards the end of his working life John operated from 541 Mansfield Road. He died in 1914.

Once again many thanks for your kindness in sending this to us. Jeff Taylor.


Walter Fowler


Watch key winder
Much enlarged.
***
BOOKS

The book for this newsletter is The Official Badge Collectors Guide from the 1890s to the 1980s., by Frank R Setchfield. This is a guide to button and lapel badges and does not cover military badges. I can not remember when I bought this book, possibly the early 1990s., or how much I paid for it. However it was certainly cheaper that the £74.95 asked for by Amazon Books!
It is a lavishly colour illustrated book of 188 pages showing over 2,000 badges from the Boer War to Band Aid with descriptions of their purpose and origins.
Whilst the book cannot include all the types of badges that have been issued it has a good selection of metal enamelled badges that are most likely to be found by metal detectorists.

Displayed (below) the badge 5th. right 2nd. row is for the 1943 film Stormy Weather staring Bill Robinson and Lena Horne. JMBG
A SMALL DISPLAY OF BADGES FOUND WITH A METAL DETECTOR

***
THE STUFF DREAMS ARE MADE OF!


A metal detectorist has found a hoard of 824 gold staters thought to be the biggest hoard of gold Iron Age coins since 1849 when a farm worker unearthed about 2,000 gold staters near to Milton Keynes.

This latest hoard was found in a broken pot in land near to Wickham Market, Suffolk. The coins date from 40BC. to AD. 15 and were minted by the Iceni. They are at present going through the Treasure Act procedure.
FIGURES ON ROMAN COIN REVERSES

Here is the third set of ten drawings of figures that may be found on the reverses of Roman coins found in Britain.

21. Liberalitas 22. Libertas 23. The Three Monetae 24. Nobilitas 25. Pax

26. Pietas 27. Providentia 28. Pudicitia 29. Salus 30. Securitas

21. LIBERALITAS. Liberality. Holding a tablet (tessera) and cornucopia, horn of plenty.
22. LIBERTAS. Freedom. Liberty. Holds the pileus (pointed cap of Liberty) and sceptre.
23. THE THREE MONETAE. Mint or Money, holds scales and cornucopia. Each with a
pile of coins at their feet.
24. NOBILITAS. Nobility. Holds palladium (image of Pallas or Minerva) and sceptre.
25. PAX. Peace. Holds olive branch and sceptre.
26. PIETAS. Piety, Dutifulness. Often veiled holds box of perfumes, sacrificing at an altar.
27. PROVIDENTIA. Providence, Forethought. Holds baton pointing to a globe at her feet,
and a sceptre.
28. PUDICITIA. Modesty, Charity. Holds sceptre often veiled.
29. SALUS. Health, Safety and Welfare. Holds sceptre and patera (a round shallow dish or
vase) feeding a serpent coiled round an altar, or holds the serpent in her arms.
30. SECURITAS. Confidence, Security. Holds patera or sceptre and may be leaning on a
column, legs crossed. Sometimes sitting in a chair.
***

TRIAL PIECE
The illustrated trial piece of a one shilling was found with a metal detector about thirty years ago at Papplewick. It is believed that it was used to test the accuracy of the coin dies used to produce counterfeit coinage of James 1 1603—1625.
GREAT SEAL OF THE KING OF ENGLAND
JOHN 1199—1216.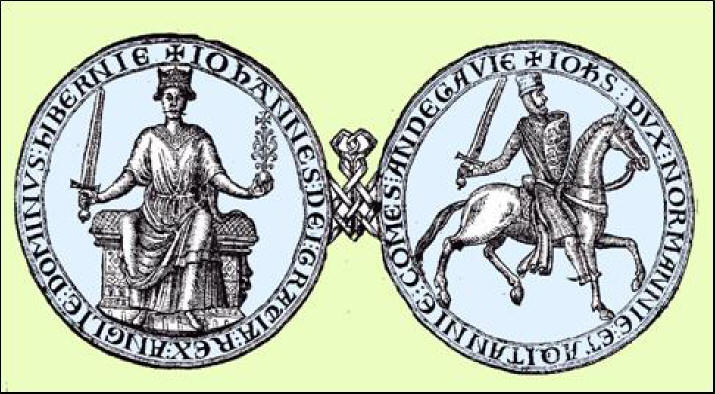 A TOPICAL SKETCH BY JOHN RADFORD.